DeKalb honors DWM calendar contest winners
DeKalb County CEO Michael Thurmond and the Board of Commissioners honored 12 elementary school students for submitting works of art that highlighted water conservation and the importance of properly disposing fats, oils and grease.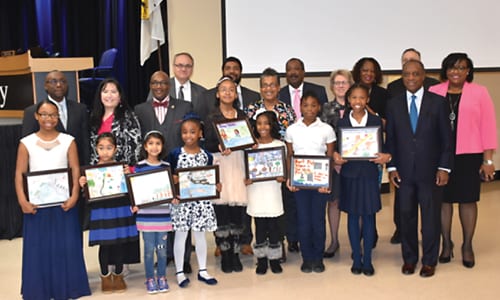 The DeKalb County School District students were selected as the winners of the Department of Watershed Management(DWM) 2018 Art Calendar Contest. Kindergarten through fifth grade students were encouraged to submit artwork that followed the theme of "Protecting Our Water Resources," such as never pouring fats, oils and cooking grease down drains. The annual contest celebrated its 13th year, and this year 97 students from nine schools submitted entries.
Department of Watershed Management 2018 Art Calendar Contest Winners
| | | | | |
| --- | --- | --- | --- | --- |
| Name | School | Grade | Teacher's Name | Month |
| Cenia Johnson | Narvie J. Harris Elementary | 3 | Brandon Taylor | January |
| Rasheena Anthony | Flat Shoals Elementary | K | Normadelle Whittle | February |
| Jacob Upshaw | Flat Shoals Elementary | 3 | Normadelle Whittle | March |
| Ashna Joshi | Dunwoody Elementary | K | Klaretta Young | April |
| Akshara Gupta | Dunwoody Elementary | 1 | Ashley Smith | May |
| Zoie Oglesby | Narvie J. Harris Elementary | 4 | Brandon Taylor | June |
| Kayla Banks | Flat Shoals Elementary | 4 | Normadelle Whittle | July |
| Layla Harper | Flat Shoals Elementary | 1 | Normadelle Whittle | August |
| Noah Almanor | Narvie J. Harris Elementary | 5 | Brandon Taylor | September |
| Laineshoc Waree | Flat Shoals Elementary | 3 | Normadelle Whittle | October |
| Nina Pope | Flat Shoals Elementary | 4 | Normadelle Whittle | November |
| Lauren Williams | Wadsworth Magnet School | 5 | Melissa Sanders | December/Cover |