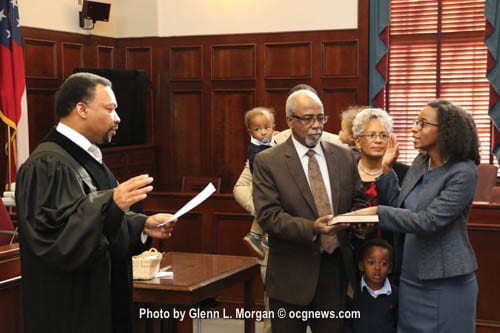 Alisha Adams Johnson began the New Year with new responsibilities and a new title in an office where she started her career as an intern: On Jan. 1, she took the helm as Rockdale County's District Attorney, becoming the first African –American to hold the position in Rockdale's 147-year history.
Johnson was sworn in on Dec. 29 before a crowd who gathered in Superior Court Judge Robert Mumford's Courtroom for the 10 a.m. ceremony. Rockdale Probate Judge Clarence Cuthpert, Jr. performed the oath of office.
Johnson's family, including her husband, Ashanti Johnson; their three children; her parents;  her sister; brother-in-law, nieces and a cousin, attended the ceremony.
After the ceremony, Johnson gave honor to God and thanked those who helped her along her professional journey including retiring District Attorney Richard Read for recommending her to Gov. Nathan Deal for the appointment. She said Read served as a great role model and she  thanked him for having the confidence in her to lead the District Attorney's Office.
Gov. Nathan Deal appointed Johnson on Dec. 21 to fill the remainder of Read's term, which expires on Dec. 31, 2018. The general election to fill the seat will be held in November.
During her inaugural address, Johnson also acknowledged Judge Nancy Bills, saying she took her first plea in Bills' courtroom, and she recognized Superior Court Judge David Irwin, where she had her first bond hearing. Johnson first came to the Rockdale District Attorney's Office as an intern nearly 12 years ago during her third year in law school.
Looking out in the audience, Johnson said she was overwhelmed by the outpouring of support from the community, who witnessed the historic event.
"I do not take the significance of this moment lightly. I am my ancestors' wildest dreams," Adams-Johnson said.
Johnson's appointment as an African American District Attorney makes her part of an elite group. Across the country, African Americans who hold the title of District Attorney are rare. White men comprise the majority of elected prosecutors who ultimately are responsible for charging criminals and deciding what sentences to seek for those who are convicted. According to a report commissioned by the Women Donors Network and conducted by the Center for Technology and Civic Life: 95 percent of elected prosecutors are white; 79 percent are white men; three in five states have no black elected prosecutors; and just 1 percent of elected prosecutors are minority women.
Johnson grew up in the Bronx, NY. The youngest of three children, she has a brother, Nathaniel, and a sister, Attorney Nichole Thompson, who attended the swearing-in ceremony with her husband, Troy Thompson. Johnson's parents, Nathaniel and Audrey Adams, also attended. Her dad held the Bible as she was sworn in.
"It was a proud moment for my whole family, even those who could not be present. My brother and his wife recently had a baby and they were not able to attend," Johnson said.
Johnson grew up middle class. Her dad was an All American track star who pursued a career in special events production, traveling the world putting on various events. Her mother was a registered nurse who worked on the front lines educating the public on AIDS prevention. Johnson said her parents plan to move to Rockdale in March when her mother retires from nursing.
Johnson said she left the Bronx to attend Spelman College in Atlanta. While at Spelman, she met Ashante Johnson, a student at Morehouse College. They were friends for a decade before they began dating and eventually married. Johnson pursued a career in law. He pursued a career in the pharmaceutical industry.
"Having watched my sister specialize in employment law, I thought I would pursue a career in patient advocacy with health care law. However, once I went to law school, I was captivated by criminal law," the District Attorney said. "I enjoyed watching television shows like "Law & Order."
After receiving her undergraduate degree from Spelman College, Johnson received her law degree from Georgia State University's College of Law. She interned with the Rockdale District Attorney's Office during her third year of law school and began working as an Assistant District Attorney in 2006, where she has served in the Rockdale District Attorney's Office ever since. Initially working on misdemeanor crimes in State Court, Johnson was promoted to Superior Court to prosecute felony crimes ranging from thefts to murder.
Johnson is a member of the 2018 class of Leadership Rockdale. She is married to Ashanti Johnson. They have a 3 1/2-year-old son and twins (a boy and girl) who are 16 months old.
Johnson officially began her duties as District Attorney on Jan. 1.