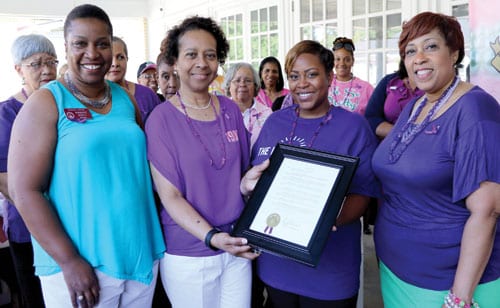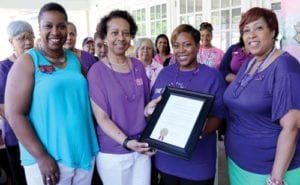 As part of a national partnership, the Alpha Kappa Alpha Sorority, Inc. Lambda Epsilon Omega Chapter participated in "The Longest Day" on Monday, June 20, in Lithonia. "The Longest Day" is one of the organization's signature events to raise funds and awareness for the Alzheimer's Association, which provides research and support for families facing the disease.
Held annually on the summer solstice, teams across the globe create their own projects to fundraise and honor those impacted by Alzheimer's disease. The sunrise-to-sunset duration of the event symbolizes the arduous journey of both those living with the disease as well as their caregivers.
Sorority members served lunch and engaged seniors in various activities at the Yellow Brick House.
The chapter is located in DeKalb County and has been providing community support for forty years said former Lithonia Mayor Marcia Glenn.
On hand to observe the day were several Lithonia leaders including State Rep. Doreen Carter, State Rep. Dee Dawkins-Haigler, Mayor Deborah Jackson and former Mayor Marcia Glenn.