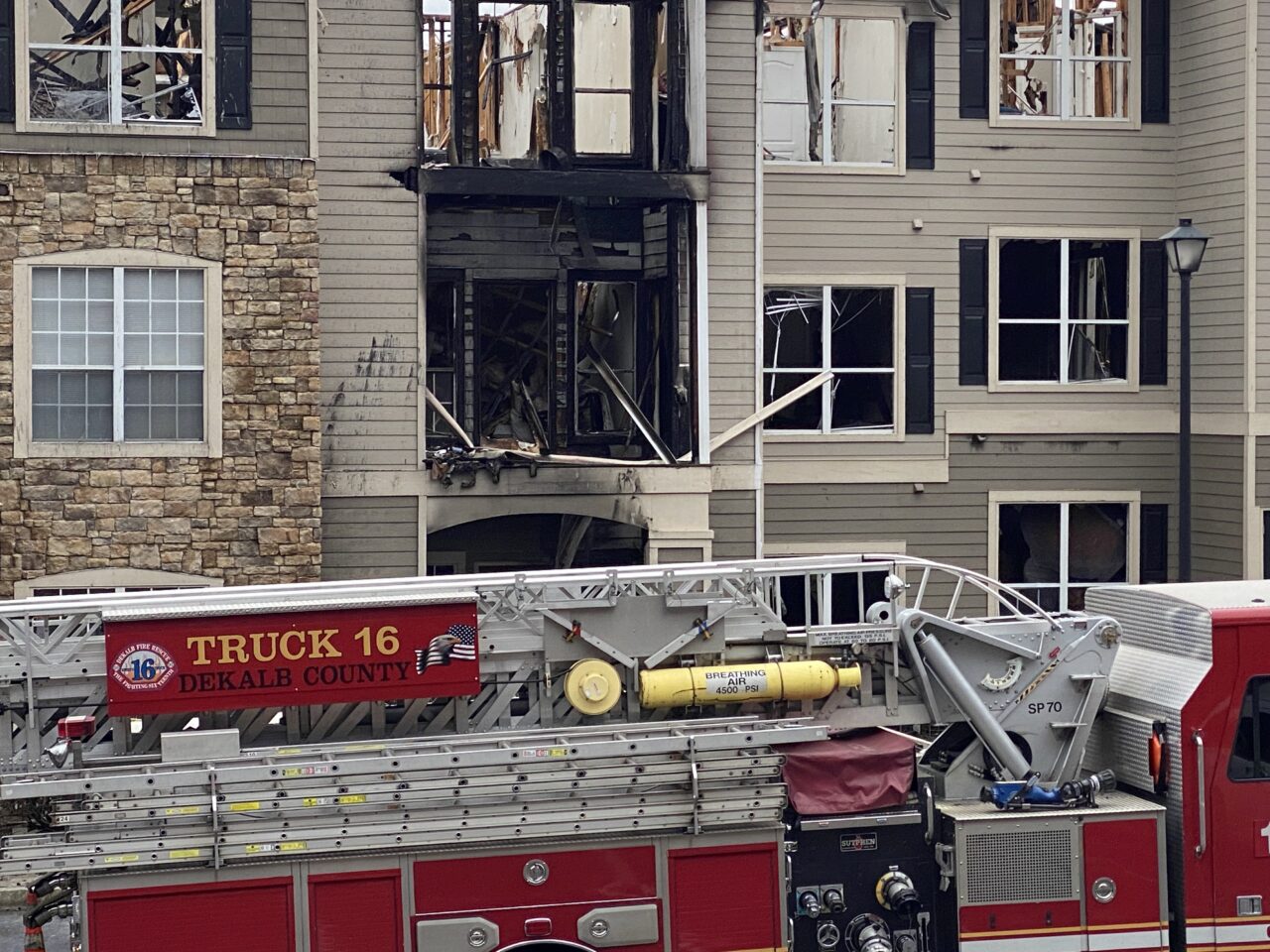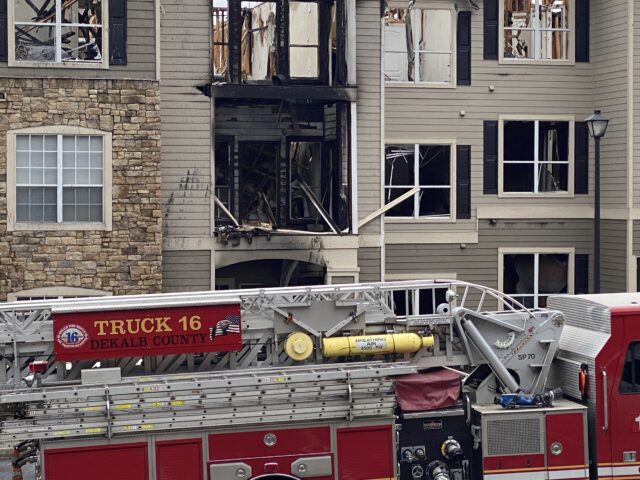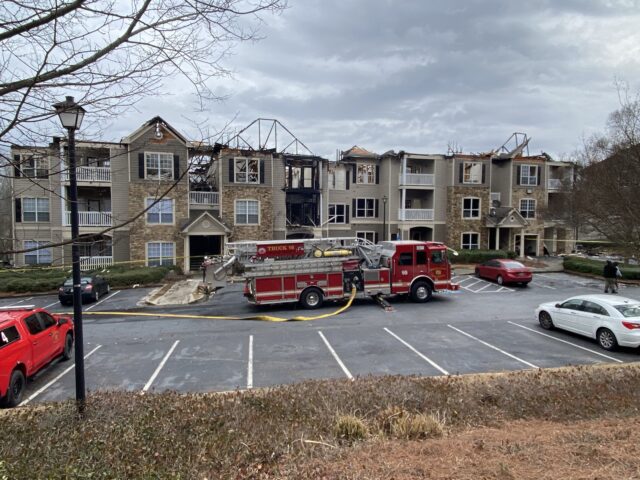 Photos By Glenn L. Morgan
STONECREST—The Red Cross is assisting 21 families (37 people) who were displaced on Tuesday, Feb. 1, after a fire destroyed their homes at the Wesley Providence Apartment Homes, located near Klondike and Hayden Quarry roads in the city of Stonecrest.
Capt. Jaeson Daniels, Public Information Officer for DeKalb County Fire Rescue, said the fire broke out at 2:20 p.m. in an apartment on the second floor and swept through the building, which contained 24 units. Daniels said fire investigators have not determined what caused the fire. The investigation, he said, is ongoing.
"Thankfully, there were no injuries. All of the occupants were evacuated or they just were not home at the time the fire started," said Daniels.
Daniels said that crews worked throughout Tuesday and into Wednesday evening to make sure all of the hotspots were extinguished. The building has three stories on one side and four on the other side, he said.
Daniels said the building would have to be demolished. The roof across the entire building was charred. Residents said windy weather contributed to the fire spreading.
One resident who stood peering outside the gate where her apartment was located said she was just thankful that she wasn't home.
"I lost everything but I'm grateful to be alive. I was at work," said the woman who did not want to give her name. She said the Red Cross provided residents with two nights' stay at a hotel and other resources. She said she had renter's insurance to cover content and liability but some residents only had liability.
"I feel sorry for the because they lost all of their clothes, furniture and everything that was in their home and they are not covered," she said.
Volunteers are working closely with apartment management to ensure that anyone who needs temporary lodging receives it, said Sherry Nicholson, Regional Communications Director.  They are working to place residents in any available vacant units at Wesley Providence or in a sister property.
The Red Cross, Nicholson said, is also providing food, clothing and personal care items.
"Our caseworkers will follow up with the families to help them think through recovery next steps and share additional resources available in the community. In addition, if someone has lost items like eyeglasses or prescription medications, the Red Cross can help with that," Nicholson said in an email to On Common Ground News.
Stonecrest City  Manager Janice Allen Jackson said on Wednesday the city has reached out to be of assistance to the families.
"Our hearts go out to the 20+ families that were displaced as a result of the devastating fire that took place yesterday afternoon at the Wesley Providence Apartment Homes. The City of Stonecrest has reached out to the Property Manager and the American Red Cross to determine how we might partner with them to meet the needs of affected Stonecrest residents," Jackson stated in an e-mail.
"We also await the results of the Fire Marshal's investigation into the cause of the fire. While we don't yet know how this happened, we encourage all residents to follow recommended safety guidelines at all times. We will post fire safety information at www.Stonecrestga.gov to assist DeKalb Fire Department in their prevention efforts."