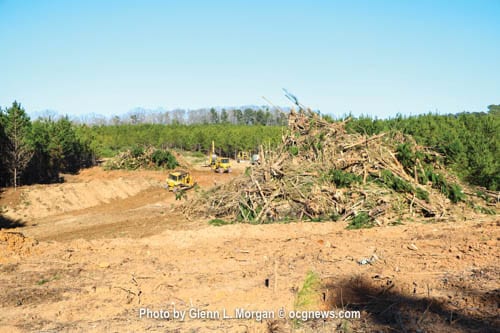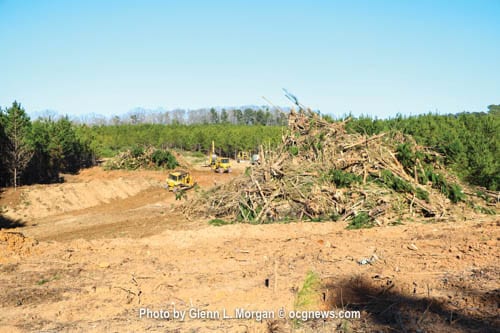 By Valerie J. Morgan
Thousands of trees are being cleared off of Woodrow Road near the Evans Mill Road entrance to New Birth Missionary Baptist Church to make way for a new road.
The new road, however, has sparked an outcry from some residents and created friction between Stonecrest City Councilwoman Diane Adoma and DeKalb County Commissioner Mereda Davis Johnson, who both represent residents in the district where the project is underway.
Adoma says residents should have been notified about the road and held a news conference on Jan. 4 to demand answers. Johnson, however, said the press conference was premature and held without all of the facts.
"From the little information I have received, this is Phase 3, which goes back to a project that was started in 2006.  I can understand that people are concerned, but let's get the history of it and the facts of it before we incite the public," said Davis.
Adoma, however, said she had a right to hold a news conference and address the public's concerns with what information she did have.
"People are concerned and they want to know why the community was not informed," said Adoma. "You don't run a road like that through the community and not give notification. HB477 states whenever roads are being run through communities, residents have to be notified."
Adoma said her phone began ringing off the hook with residents demanding to know why the trees were being cut down. Although the tract is in District 5, which she represents, the calls, Adoma said were coming from residents throughout the city of Stonecrest.
Faye Coffield, who contacted Adoma and attended the press conference with her, said residents are prepared to fight, if the road intrudes into the community.
"If they try to come across into the residential area, we are preparing for a fight unlike any fight they have ever seen on the Southside," Coffield said. "We're just not going to tolerate this foolishness. When we voted for a city, we were told we were going to have our own city and we were told we were going to control the city. "
Coffield said the community thought plans for the road construction had ceased.
"We have been staunch nature preservers out here in this community," said Coffield. "We reached an agreement with New Birth, we thought, to not have this road to come through here. This road was actually proposed when New Birth had about 25,000 members and there were other things in the works. But over time, the neighborhood has changed and we've become more residential…"
On Common Ground News was unable to reach officials from New Birth. Adoma said she learned from Attorney Bernard Knight, who represents several landowners in the Lithonia Industrial Park, that the land clearing is Phase 3 of a Georgia Department of Transportation project, which originated in 2006.
"My working assumption is that it is Phase 3. I haven't been by there. But from what I know, this is part of an expansion of the Lithonia Industrial Boulevard Extension.  Phases I and II of the extension were the new highway between S. Stone Mountain Lithonia Road and Rock Chapel Road, which opened in May 2013."
Knight said he believed the expansion was planned to ease commuter traffic. The DeKalb Board of Commissioners awarded the $6,080,104.65 contract to E.R. Snell for construction on April 25, 2017, he said
New Birth owns about half of the property and the Stewart Family, represented by Doug Stewart, owns the other half, Knight said.
Knight said when Adoma contacted him to ask about the project, he provided a statement that read: "It is anticipated that, like the earlier phases, Phase III of the extension may have a major impact on development in Stonecrest, for reasons that include MARTA's plans to locate one of its proposed rail stations at the intersection of Phase III and I-20. Also significant is that the southern terminus of the Extension will be at Woodrow Road, near its intersection with Evans Mill Road and opposite AEI's campus."
Ed Williams, who chairs Concerned Citizens For Effective Government, said he believes the DeKalb Board of Commissioners violated the City of Stonecrest's jurisdiction by approving the $6 million appropriation for the road. The phase 3 contract was issued in April 2017 after the city of Stonecrest was incorporated.
"There should not have been any activity on the project and certainly, no contract awarded after the city was created," Williams said. "It is obvious to me someone wanted this contract to be awarded before the city council and the surrounding community could have any say."