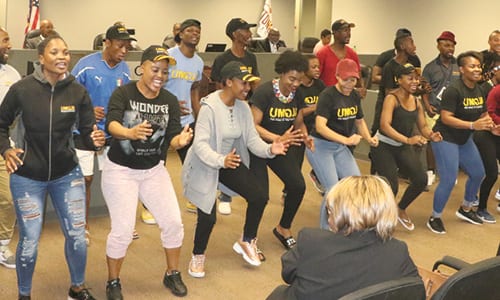 The cast of  "Africa Umoja, The Spirit of Togetherness," gave the City of Stonecrest a taste of its award-winning performance at the Oct. 15 City Council meeting. The South African dance and theatrical group sang two selections a cappella, including South Africa's national anthem.
Africa Umoja is scheduled to be staged Oct. 30-Nov. 8 at DeKalb County's Porter Sanford Performing Arts Center.  
Richard Jordan, who represents the International Arts Foundation, which is presenting the performance, said those who attend should expect a colorful and exhilarating celebration to commemorate the 100th birthday of the late South African civil rights leader, Nelson Mandela.
  "Everyone in the cast is from South Africa. They are the absolute best. I've been doing this for 30 years and I have never seen a more exciting show, a more entertaining show," said Jordan. 
Stonecrest resident Faye Coffield said she thoroughly enjoyed the cast members' surprise visit to City Hall. She said she recognized the national anthem when the group performed. 
"They were exceptional. We need more of these types of cultural exchange programs," said Coffield, who said she would love to attend the performance.
Coffield, who has visited Libya and Kenya, said she spent last summer visiting Kenya and she loved it.  
"I plan to go back," said Coffield.  
As goodwill ambassadors for South Africa, the cast will share South Africa's story, Jordan said.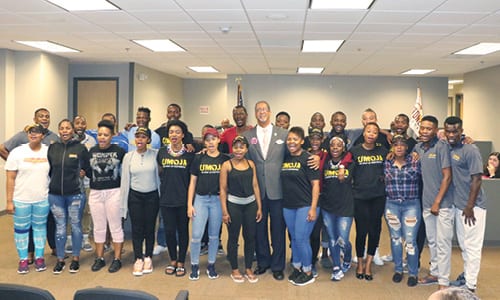 "Africa Umoja is a history lesson—from tribal living, village life, all the way through apartheid and even Hip Hop," Jordan said.   
Jordan said some daytime performances of the tour have been set aside for students. Teachers can use a study guide that has been developed for students who attend the performance of "Africa Umoja." 
"There are so many things about people of African descent that people don't know. They can pull down the study guide at the website (www.africaumojausatour.com) and learn about the history," Jordan said.
Stonecrest Mayor Jason Lary said he is excited about the performance coming to DeKalb.
"Africa Umoja matches our international economic development plan and we're looking forward to continuing partnerships with international cities and organizations," said Lary.