DeKalb Atletics Department  
DEKALB COUNTY, GA– Arabia Mountain and Tucker clinched Class 5A state playoff berths and set up a big showdown on Oct. 28at Godfrey Stadium for the No. 3 seed . 
The Arabia Mountain Rams (4-5, 2-2) knocked off Martin Luther King (2-7, 1-3) 27-0 to clinch its first playoff spot since the pandemic shortened the 2020 season. 
Julian Shanks got the Rams on the board in the first quarter with a 19-yard pass to Kenneth Hollinger for the score. The Rams took the 7-0 into the third quarter when they extended their lead to 14-0 on a 36-yard touchdown run by Shanks. 
The lead was pushed to 20-0 as Shanks threw an eight-yard strike to Jordan Miller. Arabia added a final touchdown in the fourth quarter to make the final of 27-0. 
Arabia Mountain's defense led by Daniel Turpin (4 tackles, 2 sacks, 2 tackles for loss) and Malcolm Snipes (5 tackles, 1 interception) held the Lions to just 17 yards of total offense.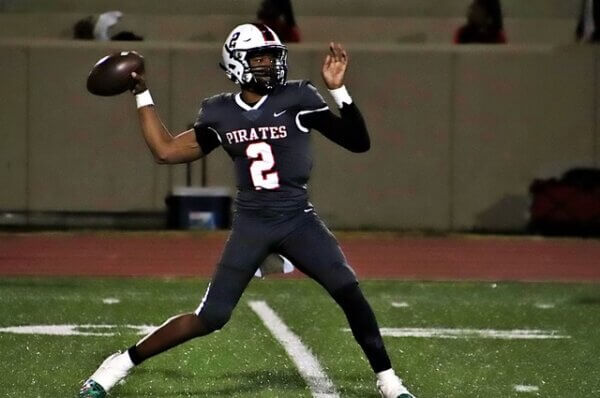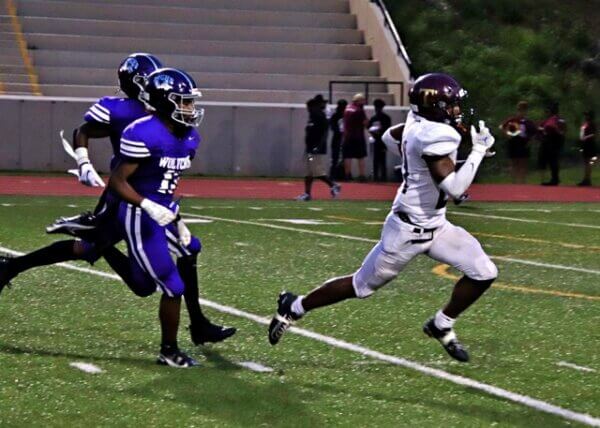 Trailing 6-2 with 6:35 to play in the first quarter, the Tucker Tigers (4-5, 2-2) scored 28 consecutive points on the way to a 44-12 Region 4-5A victory over the Lithonia Bulldogs (0-9, 0-4) on Oct. 28 at Hallford Stadium. 
Jordan McCoy was a big catalyst for the Tigers rushing for 192 yards and four touchdowns on 20 carries and added three receptions for 53 yards. Quarterback Jamar Graham threw for 113 yards and had touchdown throws to Evan Ffrench and Christian Whitmore.  
French was 6-6 on PATs and Izayah Horsham got a safety to add to the point total.  
Stone Mountain 22, Midtown 0 
The Stone Mountain Pirates (3-6) picked up their third win of the season with a 22-0 shutout of the Midtown Knights on Oct. 28 at Henderson Stadium. 
Stone Mountain's defense picked off five Midtown passes including three by Nate Simmons and one each by Ed Simmons and Jeremiah Leslie. The Pirates limited Midtown to four first downs in the game. 
Antonio Hardge caught a touchdown pass from Cameron Graves for the opening score. Graves would run for two touchdowns to account for the 22-0 win. 
Riverwood 40, Dunwoody 33 
Battling injuries, the Dunwoody Wildcats (5-4, 1-3) got up on Riverwood, but succumbed to a big late rally to fall 40-33 and their playoff hopes taking a big blow. 
Backup quarterback Matt Pearch helped the Wildcats build 33-19 lead as he threw touchdown three touchdown passes, two to Mason Weeks (4 receptions, 93 yards) and one to Rocco Sinisgali. 
Riverwood would score three fourth quarter touchdowns to rally to the 40-33 win.  
Jordan Wade finished with 15 carries for 133 yards and a touchdown for the Wildcats. The Wildcats need a win against North Atlanta to get into the playoffs. 
Lakeside 24, Druid Hills 0 
The Lakeside Vikings moved to seven wins on the season for the first time since 1997 with a 24-0 shutout of the Druid Hills Red Devils on Oct. 28 at Adams Stadium. 
Running back Jean-Luc Noison scored two touchdowns while toting the rock 18 times for 116 yards and quarterback Kyle Davis added another touchdown. 
Luke Chilton returned an interception 60 yards for an interception to increase a 10-0 Vikings lead to 17-0 in the third quarter. Jay Hanson finished a perfect 3-3 on PATs and hit a 29-yard field goal. 
DCSD FOOTBALL RESULTS – WEEK 11
Notre Dame (
4
-6) 
39,
Cross Keys (0-
8
)
 6
Clarkston (
2
-7)
 8
,
 Johnson-Gainesville (0-
9
) 
6
Hapeville (
2
-7, 
2
-2)*
 30
, 
Miller Grove (3-
6
, 1-
3
)
 7
Lakeside (7-2) 24,
Druid Hills (4-5) 0
Callaway (6-3, 5-0) 49, 
McNair (4-5, 2-3)* 6
Arabia Mountain (4-5, 2-2) 27, M.L. King (2-7, 1-3) 0
Tucker (4-5, 2-2) 44, Lithonia (0-9, 0-4) 12
Decatur (5-4, 4-0) 40, 
Chamblee (6-2, 3-1) 38
Riverwood (2-7, 2-2)* 40, Dunwoody (5-4, 1-3)
 33
Landmark Christian (5-4, 3-2)* 45, Redan (2-8, 1-5)
 12 
Holy Innocents (6-3, 3-1)* 42, Stephenson (5-3, 3-1)
 14
Stone Mountain (3-6)
 22,
 Midtown (5-4) 0 
Westminster (6-3, 3-1)* 27, SW DeKalb (2-7, 0-4) 21 
Eagles Landing Christian (5-4, 4-1)* 85, Towers (0-8-1, 0-3)
 0
OPEN DATE: Cedar Grove (6-2), Columbia (6-3)