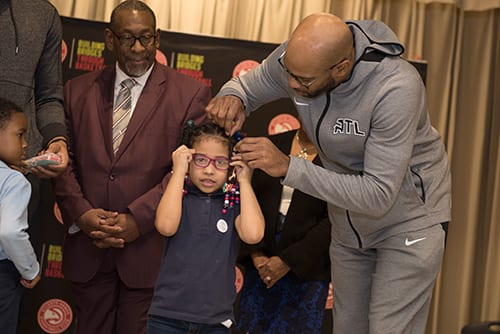 More than 60 students at Toney Elementary School received new glasses and got to try them out in a unique way – shooting hoops with Atlanta Hawks players, Kent Bazemore, Vince Carter and Tyler Dorsey.
The event celebrated a partnership between the Atlanta Hawks Foundation and nonprofit provider Vision To Learn, now in its second year providing free eye exams and glasses to students in Metro Atlanta.
An estimated 55,000 children in metro Atlanta go to school every day without the glasses they need to see the board, read a book or participate in the classroom. The primary hurdle is a lack of access to vision services for students in low-income communities. To solve this problem, Vision To Learn brings vision services to students at school using mobile clinic vans.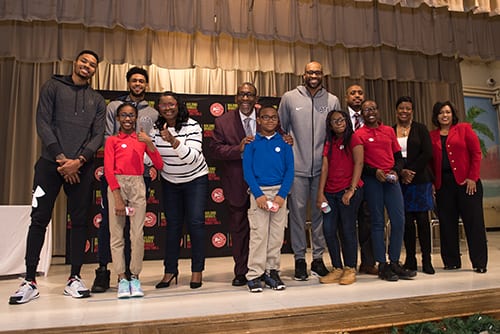 "Vision To Learn provides kids with the glasses they need to succeed in school, and in life," said Ann Hollister, founder and chair of Vision To Learn. "Support from the Atlanta Hawks Foundation helps us serve many more kids and, just as important, makes getting glasses fun and exciting for students."
A multi-year partnership with the Atlanta Hawks Foundation has helped fund the program. At the Dec. 10 event, more than 60 students tried on their new glasses for the first time, assisted by the Hawks players, Harry the Hawk, and the Hawks ATL Dancers. Then, the students walked to the gym, where they were treated to a surprise basketball clinic, demonstrating how better vision helps students succeed in school and in athletics.
"The Atlanta Hawks Foundation is proud to support Vision To Learn in Atlanta," said Andrea Carter, Hawks vice president of Corporate Social Responsibility and Inclusion. "This program has made an immediate impact in the lives of thousands of Atlanta students. With the help from a pair of glasses, kids can achieve their highest and best in the classroom, on the court and in the community."
Vision To Learn serves several school districts in Atlanta including the DeKalb County School District, Atlanta Public Schools, and Clayton County Public Schools.
"DeKalb County School District is delighted to have the support of Vision To Learn and the Atlanta Hawks Foundation. Students do better when they come to school prepared to learn, and a pair of glasses is a critical tool for those with vision issues," said Superintendent R. Stephen Green.
Prior to the start of the 2018-19 season, the Hawks committed to making an impact on 50,000 lives through 50 community events in honor of their 50th year in Atlanta