Developer Vaughn Irons: Project still on track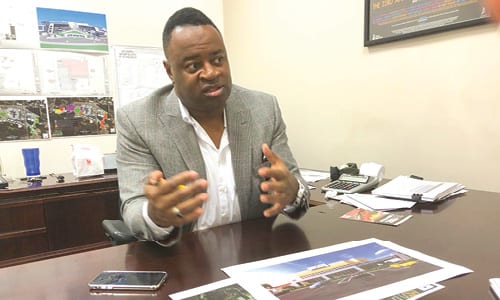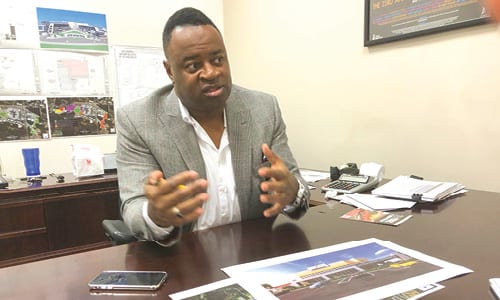 Developer Vaughn Irons. Photo by Glenn L. Morgan
Atlanta Sports Connection, Inc. has defaulted on its $2.25 million loan for the former Kohl's building, located at 8010 Mall Parkway, but developer Vaughn Irons said the project is still moving forward.
 The Atlanta Sports City Complex at the Mall at Stonecrest, known as "Tournament Central," was scheduled to be sold on the DeKalb County courthouse steps on Oct. 2, according to a notice of sale under power, which was announced in the county's legal organ. The owners of the building could not be reached to discuss the details. 
However, developer Vaughn Irons said the foreclosure did not go through because of the terms of the loan between Bay Point Capital Partners (Kohl's) and Atlanta Sports Connection, Inc., which stated that ownership would go back to The Mall at Stonecrest's owners, Urban Retail Properties, LLC, if the loan went into default.  
"It would never be sold on the courthouse steps because Stonecrest Mall put a guarantee in the contract that if anything happened, they would take back the (Kohl's)building," said Irons. "There's no way we were ever going to lose the building." 
According to Irons, Urban Retail Properties, LLC is one of four primary partners that now comprise the newly-formed Stonecrest Resorts, which has taken over the sports/entertainment project. He said the other three partners are himself (Ironside); the Chicago-based Cogent Management Group, and Foreign Partners, a British firm.
 Irons said the new group expects to announce details of its plans soon. He said in order to proceed with the new vision, Stonecrest Resorts decided to buy out the former partners, which is underway.    
 "We've been working on streamlining the ownership group," said Irons, who said certain details could not be made public just yet.
Irons said his goal is to save The Mall at Stonecrest.
"Nobody is fighting for Stonecrest harder than me," said Irons.