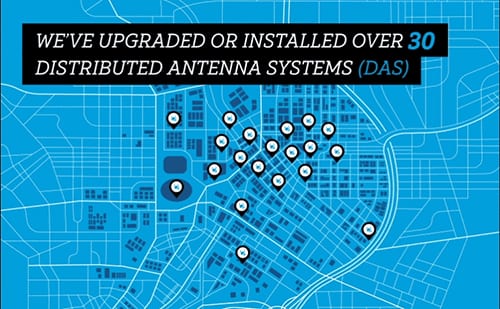 With crowds of more than 1 million expected this week for the Big Game, AT&T customers and FirstNet subscribers are getting a big boost in cellular coverage and capacity throughout the Atlanta area.
 
AT&T officials said the company has been working for more than a year to boost its network through a series of permanent and temporary upgrades throughout the city to make sure that first responders have the support they need, as well as fans during Super Bowl LIII. The upgrades include faster and easier access from hotel rooms and conference centers to social media during the Big Game.
 
"While fans in Atlanta cheer on their favorite team, we want to deliver a great network experience—whether customers are sharing their favorite moments on social media, making a call or checking email," said Scott Mair, president, AT&T Operations. "Many of the network enhancements deployed for the Big Game are permanent and will continue to benefit customers and first responders long after the game ends. It's just one of the ways we're continuing to invest in our Atlanta network."
AT&T said it is equipped with m ore than 3,000 new network improvements within the metro area. In addition to Mercedes-Benz Stadium, AT&T has upgraded or installed a new DAS at 30 additional locations throughout the Atlanta area.
"We've upgraded our portion of the in-stadium Distributed Antenna System (DAS) to provide over 300% more LTE capacity than what was available at the start of the football season. The DAS – a system of strategically-placed antennas that distribute and actively manage wireless network coverage throughout the stadium – features approximately 1,500 antennas and 1,550 remote amplifiers to help evenly distribute coverage for a better experience.
 
We have also launched hundreds of new small cell locations to existing structures like traffic signals, buildings, street lights and poles within the metro Atlanta area.
Furthermore, we're deploying 5 Cell on Light Trucks (COLTs) to handle expected increased wireless network demands," the news release said.
 
The deployments will include a COLT at Atlantic Station to enhance coverage for all the fans headed to DIRECTV Super Saturday Night. Other locations include Peachtree Street to support high traffic venues, one supporting airport hotel traffic, one supporting hotel traffic in Downtown Atlanta, and one near the Galleria area to support pre-game parties.