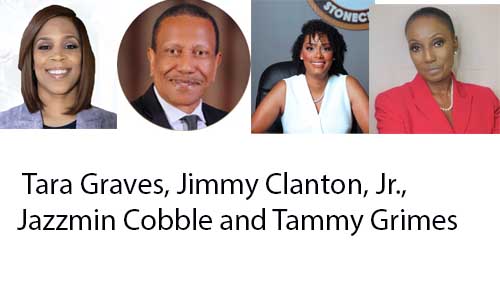 Tara Graves headed for runoff with incumbent Clanton
Story updated Nov. 3, 2021 at 11:27 a.m.
STONECREST, GA—Incumbents Jazzmin Cobble and Tammy Grimes were overwhelmingly re-elected to the Stonecrest City Council on Tuesday, each defeating two challengers in their respective races, according to unofficial results.
Meanwhile, Tara Graves appeared headed for a runoff with incumbent Jimmy Clanton, Jr. for the Post 1 City Council seat.  Graves received 41.94 % (325 votes), while Clanton received 37.68% (292 votes), according to final unofficial results released at 1:05 a.m. Wednesay by DeKalb County elections officials. A runoff would take place since neither Graves nor Clanton received the required more than 50 percent to claim a victory.  The runoff would be held on Nov. 30. Kwavena "Cubby" Nkromo was in third place with 20.13% (156 votes).
Cobble swept the District 3 race, earning 64.91% (592 votes). Alecia Washington came in second in the three-way race with 33.22% (303 votes). Herbert Woods received 1.86% (17 votes).
Grimes  commanded  the District 5 race, garnering 69.38% (981 votes). Barbara Hall received 26.80% (379 votes). Ryan Gallagher placed third received 3.39% (48 votes).
All results posted here are unofficial and must be certified by elections officials.