ROCKDALE COUNTY, GA – On Thursday, March 30, the Council for Quality Growth and Rockdale County Government hosted the 2023 State of Rockdale County at Costley Mill Event Center in Conyers. More than 200 Council and Chamber members, elected officials, businesses, residents, county staff, and partners of Rockdale County gathered to hear Chairman of Rockdale County's Board of Commissioners (BOC) Oz Nesbitt, Sr.'s annual State of the County Address. The breakfast program was presented by Atlas Technical Consultants.
Nesbitt began with commending the county's public services, including the Sheriff's Department's increased training procedures and new law enforcement technologies and the Fire Department's recent recruitments and new fire training complex. He credited these enhancements to the funding provided by the 2016 community-approved SPLOST program.
Nesbitt highlighted successes of several other county departments, including the Department of Transportation's many road improvements, bridge replacements, and implementation of a multi-use trail, many of which were also SPLOST-funded projects.
"We look forward to continuing proactive discussions with these stakeholders in the growth and development of our future infrastructure plans," Nesbitt said.
Rockdale County also recently received $300,000 in federal funding for workforce development to connect businesses and residents through job opportunities and training.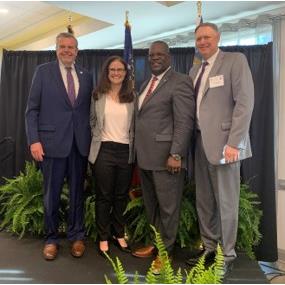 Pictured left to right: Michael Paris, Katherine Aatteberry, Chairman Oz Nesbitt and Todd Long
Rockdale's new strategic plan, "Reimagine Rockdale," is prioritizing community education, input, and feedback when addressing the current and future infrastructure needs of the county. To such end, the Chairman's office has provided new citizen resources such as a revamped website complete with an Infrastructure Resource Hub. Other community-focused initiatives included the War on Litter campaigns, park expansions and improvements, new youth recreation areas, and a county-run veteran transit mobility service, all designed with an enhanced quality of life in mind.
Rockdale has seen continued growth over the last several years, providing a solid economic foundation for businesses and residents in the community. Nesbitt announced an improved bond rating and the development of a county-wide vendor procurement plan, intended to embrace diversity, equity, and inclusion.
"Rockdale County is a community focused on future growth, fiscal responsibility, and accountability," he concluded.
The Council's State of Rockdale County annually convenes the county's business community with its local government bodies, as well as with other local leaders from across the region.
"We work with Rockdale County and its local municipalities to promote quality development policy year-round," said Michael Paris, President and CEO of the Council for Quality Growth, "and our ability to collaborate ensures everyone has a voice in how Rockdale continues to grow and thrive."
The program also featured remarks from Todd Long, Georgia Division Lead of Atlas, and Katherine Atteberry, Stormwater Planning Manager of the ARC's Metro North Georgia Water Planning District.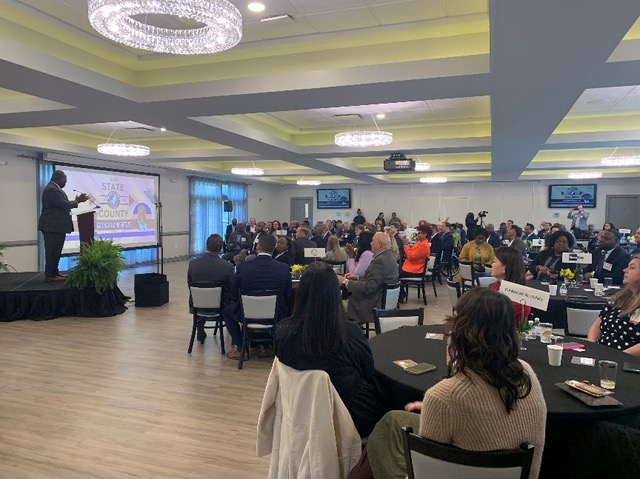 BOC Chairman Oz Nesbitt delivers his State of the County Address to business leaders on March 30, 2023.