By Mark Brock
DCSD Athletics Specialist
Five high school football games are set for DeKalb County stadiums this weekend, while ranked teams, Cedar Grove and Columbia, travel to face a pair of Top 10 ranked opponents from high classifications.
The Class 3A No. 1 ranked Cedar Grove Saints (2-0) put it on the line heading to Class 7A No. 6 ranked Collins Hill Eagles (1-0) to take on a Class 7A opponent for the second time in two weeks with two more on tap the next two before a game against highly touted St. John's of Washington D.C, all on the road.
Cedar Grove is coming off a 30-20 win over previously No. 9 ranked Westlake last week and now must take on the defending Class 7A Eagles. The Saints scored 16 points in the first three minutes of the second half to take control against Westlake. Barry Jackson was the big play guy on the night with a kickoff return following a safety and a 50-yard scoring pass from Elliott Colson.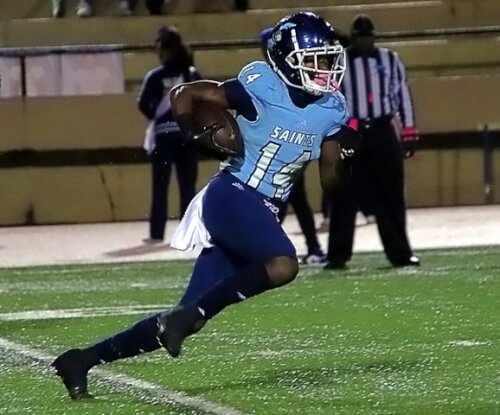 Collins Hill is coming off a tough 16-13 win over Gwinnett rival Brookwood last Friday night. Senior quarterback Mikey Sheehan triggers the Collins Hill offense.
The Class 2A No. 6 ranked Columbia Eagles (3-0) hit the road to traditional state powerhouse Cartersville to face a Purple Hurricanes team that is also 3-0 on the season and ranked No. 1 in Class 5A.
Columbia has impressive wins over Class 7A Camden County (13-10), Woodland-Stockbridge (26-21) and Washington (20-0) with a balanced offense and an aggressive defense. The Eagles shutout a physical Washington team last week behind two big fumble recovers by Kenyon Partridge, one for 19 yards and a touchdown. The defense held Washington scoreless and to under 200 yards of total offense.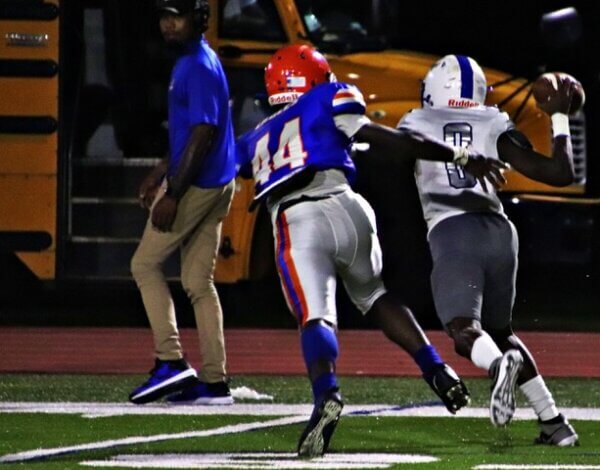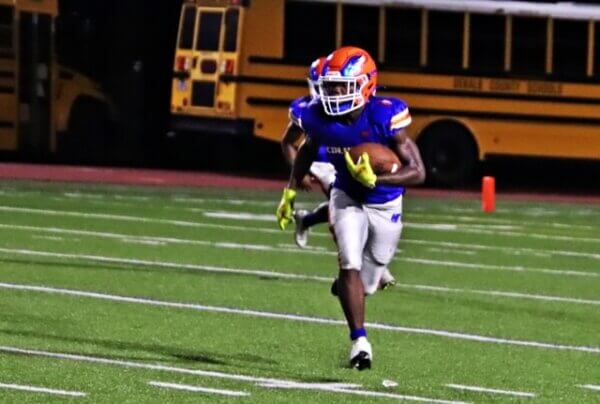 Cartersville is coming off a come-from-behind win over Allatoona as the Hurricanes score 21 unanswered fourth quarter points.
The DeKalb football week kicks off on Thursday as Towers (0-2-1) travels to Lakewood Stadium to face off with undefeated Therrell (2-0) in a 7:00 pm contest.
A pair of 1-1 squads take the field at North DeKalb Stadium on Friday as the Dunwoody Wildcats host the Druid Hills Red Devils at 7:30 pm on Friday as both hope to rebound from losses this past weekend. Dunwoody is coming off a hard fought 37-21 loss to archrival Chamblee last week. Quarterback Porter Ledoyen is coming off a game where he accounted for three touchdowns and over 300 yards of offense.
Druid Hills dropped a tough 14-13 game to Berkmar last week as miscues in the kicking game and other opportunities went by the wayside. Quarterback Jacquez Cullars has been the catalyst for the Red Devils.
Dunwoody leads the series 6-2 overall, but Druid Hills is coming in with a two-game win streak following wins in the last two meeting in 2014-15.
Other games in DeKalb stadiums on Friday include Tucker (2-0) vs. Dacula (0-3) at Adams Stadium, Clarkston (0-2) vs. Cross Keys at Avondale Stadium, M.L. King (1-2) vs. North Springs (1-1) at Godfrey Stadium and Stone Mountain (0-3) vs. Douglass (1-2) at Hallford Stadium. All the games are set for a 7:30 p.m. kickoff.
The Lakeside Vikings (3-0) are off to their best start since 2003 and travel to take on an Osborne (2-0) squad which has had early season success as well. Lakeside's Luke Chilton was the defensive player of the week in the Vikings come-back-win 24-20 over Forest Park last week. Osborne is coming off a bye week following wins over Woodstock and Chattahoochee to start the season.
DCSD FOOTBALL SCHEDULE – WEEK 4
Thursday, Sept. 8
Towers (0-2-1) vs. Therrell (2-0), 7:00 pm, Lakewood
Friday, Sept. 9
ADAMS STADIUM
Dacula (0-3) vs. Tucker (2-0), 7:30 pm
AVONDALE STADIUM
Clarkston (0-2) vs. Cross Keys (0-2), 7:30 pm
GODFREY STADIUM
North Springs (1-1) vs. M.L. King (1-2), 7:30 pm
HALLFORD STADIUM
Douglass (1-2) vs. Stone Mountain (0-3), 7:30 pm
NORTH DEKALB STADIUM
Druid Hills (1-1) vs. Dunwoody (1-1), 7:30 pm
AWAY GAMES
Arabia Mountain (1-2) at Meadowcreek (2-1), 7:30 pm
Cedar Grove (2-0) at Collins Hill (1-0), 7:30 pm
Chamblee (2-0) at Duluth (1-1), 7:30 pm
Columbia (3-0) at Cartersville (3-0), 7:30 pm
Lakeside (3-0) at Osborne (2-0), 7:30 pm
McNair (1-2) at St. Mary's (0-2), 7:30 pm
Miller Grove (2-1) at Campbell (0-3), 7:30 pm
Stephenson (1-1) vs. Carver-Atl (2-0), 7:30 pm Lakewood
SW DeKalb (1-2) at Westlake (1-2), 7:30 pm
OPEN: Lithonia (0-3)
Mark Brock is the Athletics Specialist for Media Relations for the DeKalb County School District (DCSD).