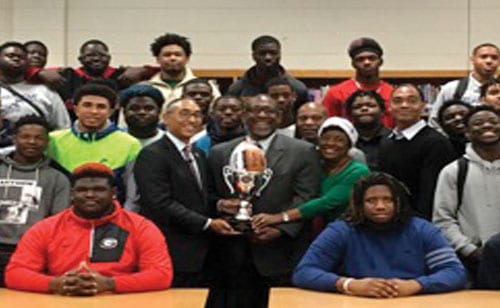 DeKalb County CEO Burrell Ellis congratulated Cedar Grove High School on its AAA state championship title win by proclaiming Dec. 21 "Cedar Grove Saints Day."
"I am proud of what these players have accomplished on the field, but also proud of their scholastic achievements," said Ellis. "Principal Benford's motto is to 'keep the main thing the main thing,' and the main thing is learning. These young men are leaders at their school, and I encourage them to grow into leaders in their community."
This year, Cedar Grove has 22 seniors on its football team. All of them are attending college in the fall, with 17 earning scholarships.
The Cedar Grove Saints finished the season with 13 wins and two losses, defeating the Greater Atlanta Christian Spartans 30-19 in the final game. This state title win is the first for Cedar Grove's football program. Coach Jermaine Smith has led the football program for four years.
DeKalb County CEO Burrell Ellis also will host the Community Hero Awards on Tuesday, Dec. 27, 6:30 p.m., at the DeKalb History Center.
The CEO's Community Hero Awards honors individuals and organizations making a significant impact in DeKalb County.
"It is an opportunity to highlight the contributions of our residents who are committed to improving their neighborhoods. It's a small gesture of gratitude thanking them for their tireless contributions to making DeKalb County a better place to live," said Ellis.
The CEO's Community Hero Awards ceremony is free and open to the public. Citizens can RSVP at www.onedekalb.com.