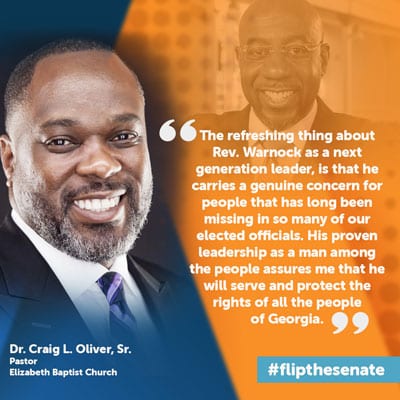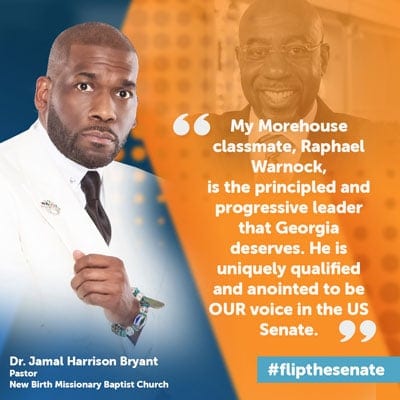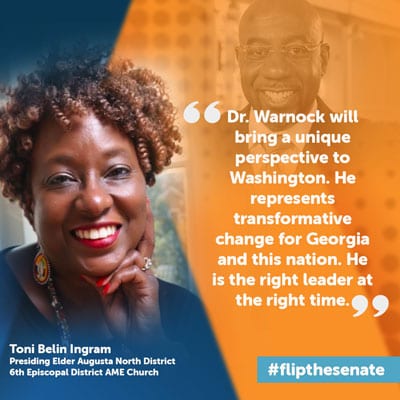 100+ clergy push for Democratic Senate frontrunner
ATLANTA—More than 100 faith leaders from across Georgia have signed on to support the Rev. Raphael Warnock's bid for the U.S. Senate.
Clergy from different denominations and various parts of the state have co-signed a joint open letter urging Georgians to join them in voting for Warnock, who currently leads a crowded field of 21 candidates.
"Dr. Warnock will bring a unique perspective to Washington," said Presiding Elder Toni Belin Ingram of AME's 6th Episcopal District. "He represents transformative change for Georgia and this nation. He is the right leader at the right time."
The growing contingency of pastors supporting Warnock's bid are not
only coalescing their support in an open letter but also taking their
message to social media in a calculated effort to "Flip the Senate" during the Nov. 3 General Election.
Warnock, who serves as pastor of the historic Ebenezer Baptist Church, continues to surge in recent polls with a progressive agenda for health care reform, job creation and the economic recovery. His grassroots efforts and energized campaign have garnered the endorsements of former Presidents Jimmy Carter and Barack Obama. Now, the Savannah native's fellow clergy members are not only lending their names in an open letter but also providing support across social media with
a collective message and hashtag
- #flipthesenate.
"Raphael Warnock represents an amazing opportunity for the people of Georgia to send a passionate and principled leader to the United States Senate," said Dr. Jamal Harrison Bryant, senior pastor of New Birth Missionary Baptist Church. "He is the embodiment of many hopes, prayers and sacrifices made for generations. This is a new day in Georgia."
Click here https://www.newbirth.org/an-open-letter-united-in-faith-for-rev-raphael-warnock/ to read the open letter and this list of faith-based leaders supporting Warnock.