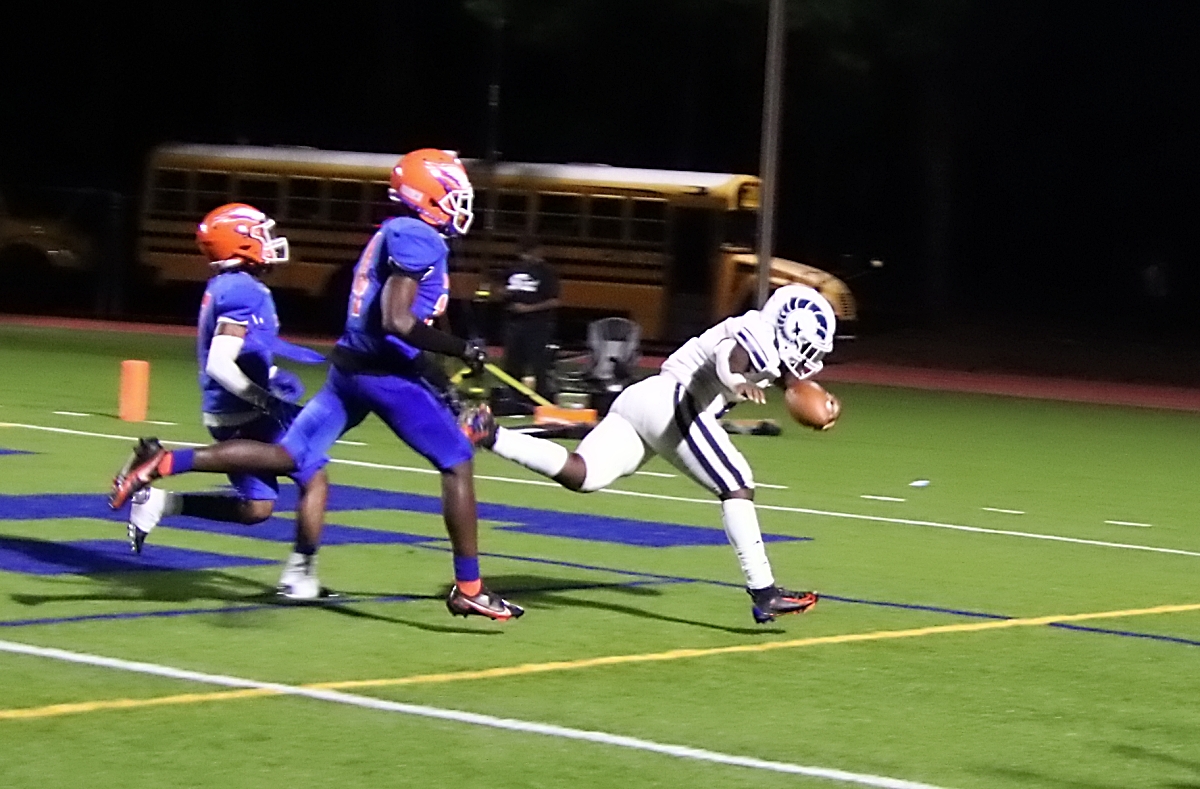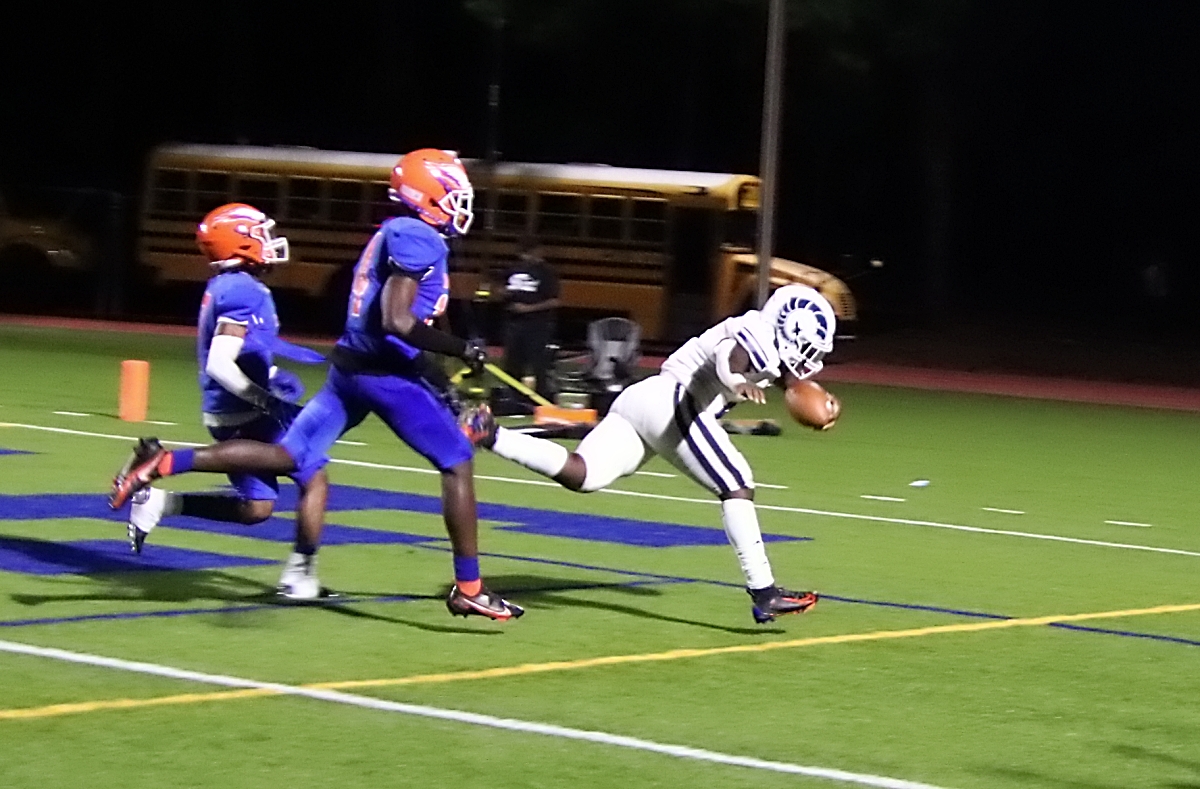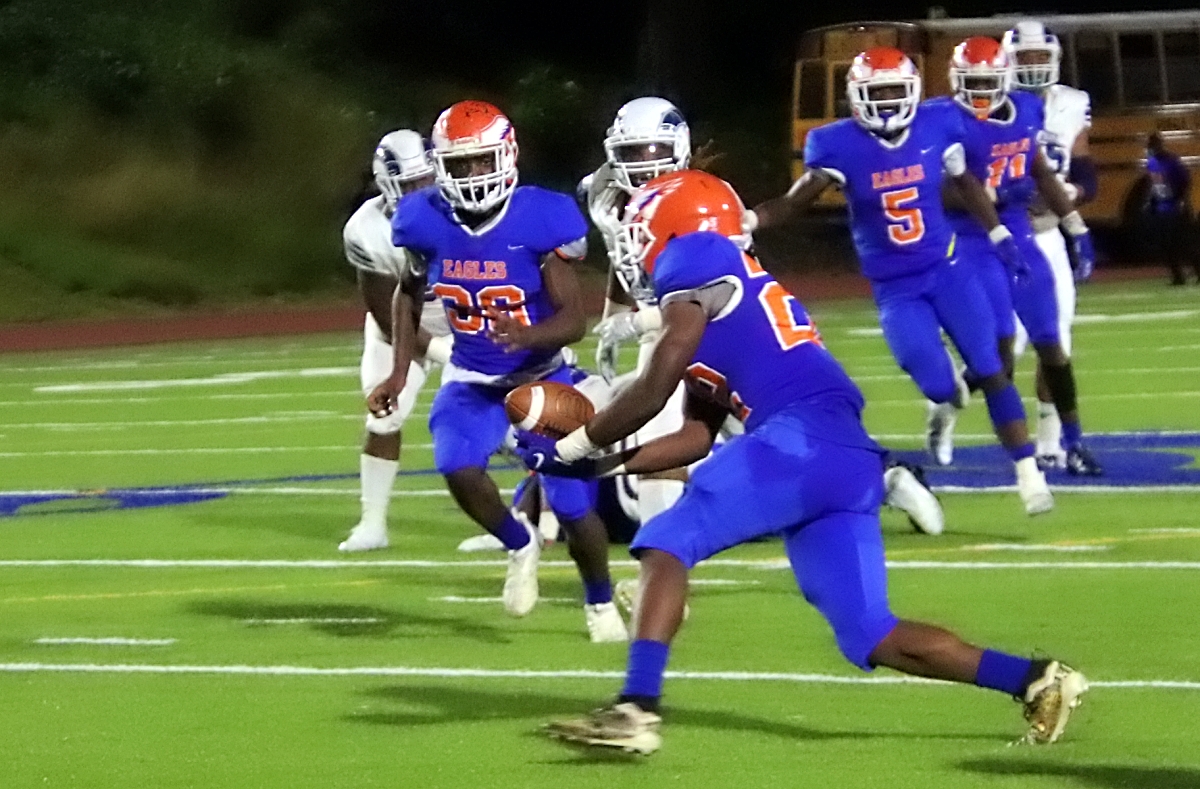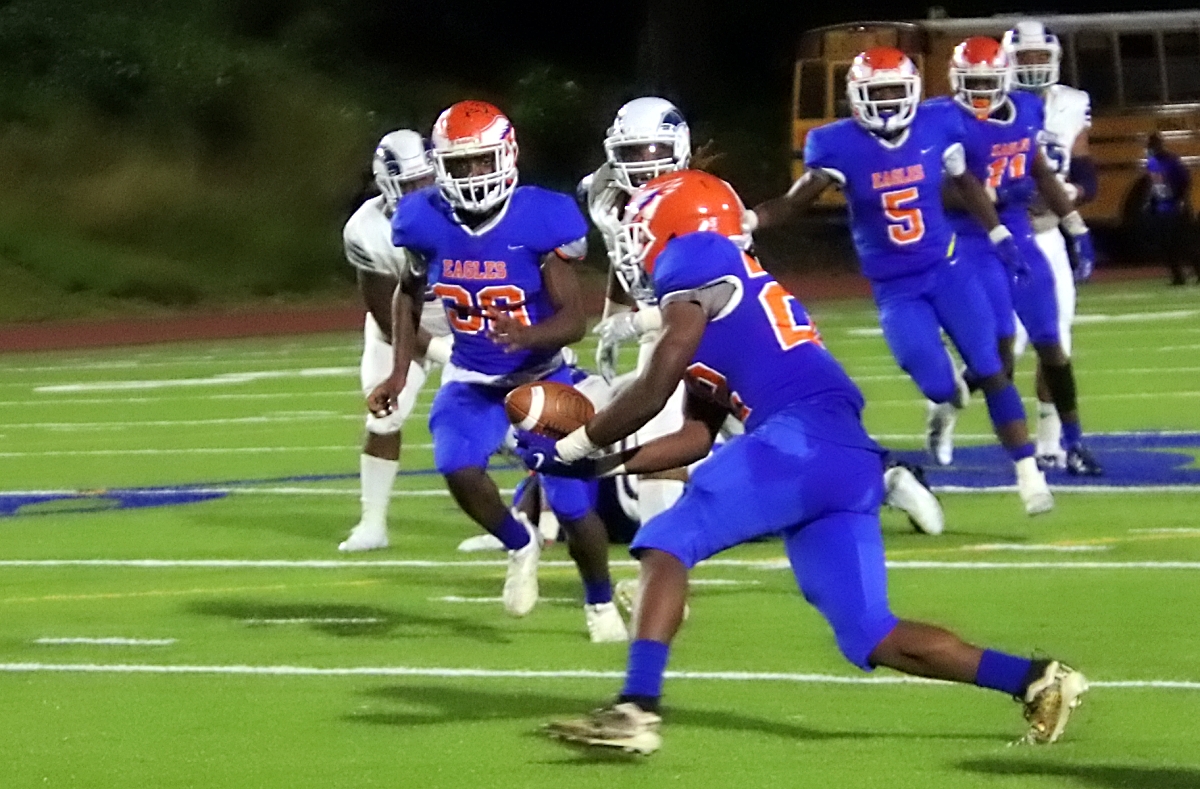 By Mark Brock
DCSD Athletics Specialist
DEKALB COUNTY, GA–A big fourth quarter defensive stand helped the Columbia Eagles pick up their first win of season with an 18-13 victory over the Arabia Mountain Rams on Friday night at Avondale Stadium.
The Sept 3 game marked the third week of action for high school football teams in the DeKalb County School District (DCSD).
The previously undefeated Rams (2-1) had struggled throughout much of the game with costly penalties and turnovers to fall behind the Eagles (1-1) in the early going.
Arabia forced the Eagles to punt with 4:46 to play trailing by five with a big 10-yard sack by Brandon Scott and promptly got their ground game going better than it had most of the night. Christopher Barnes opened from the Rams own 18 with a quick burst of 11 yards to start Arabia Mountain's final drive of the game.
Runs of 11 and 15 yards by Solomon Rayton, who had rushed for over 400 yards combined in the first two games,  and had been held in check by the tough Eagles' defense began to get some momentum moving his team to the Columbia 36.
Rayton was stopped for just a three-yard gain on third and eight and the Rams had to go for it on fourth down. Quarterback Julian Shanks dropped back on fourth and five, evaded some pressure and threw an out pattern to the left side to Pierce Nation who hauled in the pass for an apparent first down only to be ruled out of bounds.
The incomplete pass gave the Eagles the ball on downs with 1:34 to play. Columbia ran out the clock to pick up its first win of the season.
Play in the opening quarter was rough on both sides as Arabia Mountain's Brian Young and Brandon Young sandwiched an interception by Columbia's Royce Tolbert as the first three possessions ended in interceptions.
A bad snap and incomplete pass on a fourth down for the Rams set up Columbia's first touchdown of the game giving the Eagles the football at the Rams' 31. Two plays later Tolbert went 22 yards into the end zone around the right end to give Columbia a lead it would never give up. The PAT was no good with 4:44 to play in the first quarter.
On the Eagles' next possession, they would go 54 yards in eight plays aided by quarterback Elijah Morgan's pass of 29 yards to Marquez Hardy and 17 to Abdoulaye Diallo to get the ball down to the Arabia four-yard line. Marquez Harris would have runs of three yards and one yard to push into the end zone with 11:31 left in the first half. A two point pass went incomplete, and the Eagles had a 12-0 lead.
The Rams closed the gap to 12-7 in the third quarter on a six-yard touchdown run by Rayton with 4:36 left in the period. His score was set up by a big pair of 21-yard runs by Barnes. Andre Teague added the PAT.
Laquavious Oliver's interception with 1:31 to play in the third quarter set up what would be the game-clinching touchdown. Morgan had passes of 16 and 9 yards to Hardy before Roland Edwin ripped off a 31-yard run to the Rams' one-yard line. Two big plays by the Arabia Mountain defensive front forced a third and goal.
Morgan faked a handoff and passed to his right to Kenyon Partridge for a one-yard touchdown pass. A two-point try was no good with 10:22 to play to make the score 18-7.
Arabia answered right back pulling within 18-13 after converting a big fourth down and eight play on a 21-yard pass to Nation down to the Columbia 29. Barnes went 29 yards on the next play, but a two-point run was stuffed with 6:22 to play.
Preseason Class 2A defensive lineman Marquez Harris had several big plays in the game with three tackles for a loss, two by teaming up with Ricky Howard and another with Edwin Moore. Partridge added another big tackle for a loss to go with interceptions by Tolbert and Oliver and a fumble recovery by Khadarious Bailey.
Miller Grove 35, Therrell 13 
The Miller Grove Wolverines got off to a slow start at Atlanta's Lakewood Stadium trailing Therrell 6-0 before rolling to a third consecutive win of the season 35-13.
It marks the Wolverines second 3-0 start to a season in 17 years as a program and the first since opening with wins over Lakeside (33-0), Dunwoody (12-7) and Lithonia (31-16) in 2011. Miller Grove had started 2-0 five other times.
Stephenson 30, M.L. King 0 
Stephenson head coach Marcus Jelks earned his third consecutive win as the Jaguars head coach as his squad shutout the Martin Luther King Jr. Lions 30-0 at Hallford Stadium on Friday night.
Stephenson jumped out to a 21-0 halftime lead on the way to the win over the Lions (0-3).
Redan 12, Lakeside 7 
Coach Derek Vaughn's Redan Raiders are 2-0 on the season following a 12-7 victory over the Lakeside Vikings (1-2) at Adams Stadium on Friday.
Redan got out to a 12-0 lead and held on for the five-point win.