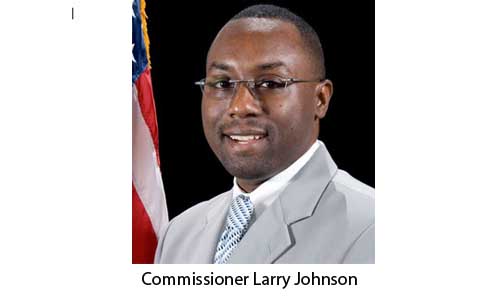 DECATUR, GA—DeKalb County Commissioner Larry Johnson will host a prayer vigil and walk, Thursday, April 28, at 5:30 p.m., at the Golden Glide Skating Rink, 2750 Wesley Chapel Rd., Decatur.
Johnson started his 'Enough is Enough!' campaign over five years ago to focus on a comprehensive approach to crime prevention. The prayer vigil and walk are designed to bring the community together during this time of uncertainty and unrest.
Johnson said he shares in the concerns of the violent acts that are plaguing our community. Throughout the year, he actively meets with the DeKalb County public safety director and chief of police to assess different strategies of how-to best deal with these violent acts.
"We must remain vigilant and continue to focus on strategies to enable us to unite and collaborate as a community to drive for solutions," said Commissioner Larry Johnson. "We will not be silenced. We must stop the violence!"
The participants will include:
Atlanta Masjid of Al-Islam – Imam Sulaimaan Hamed
Bethel Original Freewill Baptist Church – Reverend Victor C. Speakman
Bethesda Cathedral – Bishop Stewart Reese, III
Cornerstone Ministries – Pastor Rodney Hurst
Covenant Ministries – Pastor Quincy Lavelle Carswell, II
dReam Center – Pastor William Murphy
Faith Tabernacle East – Pastor Ross Heath
Grace Church International – Bishop Johnathan Alvarado
Greater Piney Grove- Reverend Dr. William E. Flippen
Higher Calling Ministries – Reverend Jeffery Golden
Love Life Church- Pastor Dr. Grace Washington
New Life Church – Decatur – Pastor Marlin D. Harris
New Life International Family Church – Bishop Jeronn C. Williams, I
New Mount Patmos Baptist Church – Pastor Tramayne Rucker
One Accord Community Church – Pastor Darlene A. Body
Pilgrim Pentecostal Church of Christ – Pastor Myra L. Jackson
Power of Faith Worship – Bishop James T. Jackson
Rainbow Park Baptist Church – Pastor Steven N. Dial
Rebirth Church of Atlanta – Reverend Dr. Maria Stafford
Shy Temple CME – Pastor James Clements
Saint Philip AME – Reverend Dr. William Watley
Transforming Faith Church – Pastor Lee May
For more information, contact Commissioner Larry Johnson's office at 404-371-2425 or visit www.commissionerlarryjohnson.com.