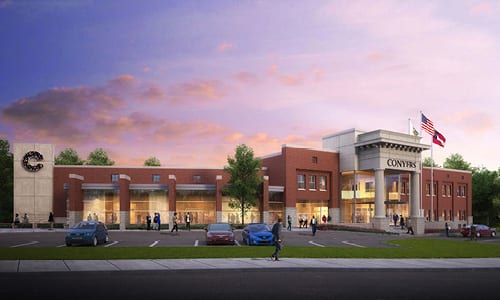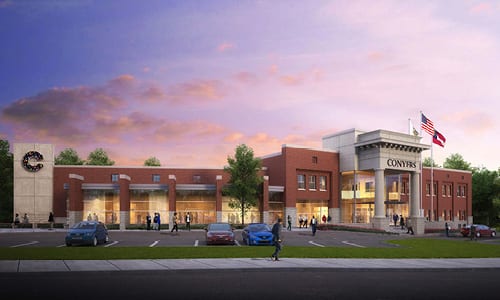 The Conyers City Council approved two contracts at its Oct. 17 council meeting to begin work on the new City Hall building.
 Precision Planning, Inc., based in Lawrenceville, will provide the architectural design and engineering services for a fee of $482,500. Reeves Young, based in the city of Sugar Hill, will provide pre-construction management services at a fee of $19,980. A second contract will be executed with Reeves Young once a maximum price for construction is established.
A kick-off meeting with members of both firms and city staff is scheduled for the week of Oct. 22 to discuss design and pre-construction activities related to the new complex.
"The experience, qualifications, and enthusiasm of the teams at Precision and Reeves Young are exemplary and match the excitement city staff have for this project," said Mayor Vince Evans. "The new city hall will be a facility our community can take pride in and serve as a catalyst for new growth and redevelopment in Olde Town and surrounding areas of the city."
Precision Planning, Inc. has more than 35 years of experience providing professional design services to cities and counties across Georgia, among them 15 city hall projects including the cities of Sugar Hill, Lilburn, and Lawrenceville. Precision Planning was one of eight firms that submitted requests for qualifications this summer and was evaluated by a panel of city staff members. 
As the selected firm for architectural design and engineering, Precision Planning will be responsible for full architectural, structural, mechanical, electrical, plumbing, civil, interiors, site lighting and landscape design plans, cost estimating and construction administration.
Precision Planning will complement the services of Reeves Young, the firm selected by the city council for construction manager at risk (CMAR) services. Reeves Young cites more than 60 years of contracting experience and a portfolio of qualifications include the McDonough, Georgia City Hall, Nancy Guinn Library, Newnan Public Safety Complex, Jim R. Miller Park Exhibit Hall, and DeKalb County Courthouse. Reeves Young has completed more than 25 projects in the Conyers-Rockdale area since 1993.
Reeves Young's CMAR duties will include the full oversight, construction administration and coordination of required trades and their contracts to complete the construction of the city hall facility. Construction duties include site work, concrete flatwork and foundations, structural, mechanical, fire protection, electrical, plumbing, roofing, doors, windows, hardware, interiors, finishes, furniture fixtures and equipment, parking area lighting and landscaping, as well as relocation assistance from the current city hall and coordinating with Precision Planning.
Precision Planning and Reeves Young project groundbreaking for the new city hall on O'Kelly Street will occur in the spring of 2019 and, weather permitting, take approximately 18 months to complete.
A page has been created on the city's website to provide updates on the progress of the new city hall: http://www.conyersga.com/government/about-conyers/new-city-hall-updates.