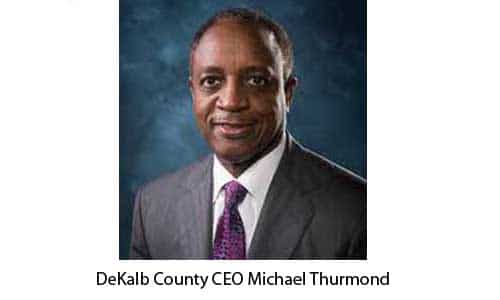 DECATUR, GA—DeKalb County CEO Michael Thurmond has proposed to the Board of Commissioners a $500 DeKalb Employee Vaccinations incentive.
"These $500 in incentives would help promote a healthier, safer county workforce as we face the looming possibility of a COVID-19 and flu 'twindemic,'" Thurmond said
Thurmond proposed a $300 incentive for county employees who provide documentation by Jan. 31, 2022, that they have been fully vaccinated for COVID-19
Additionally, Thurmond proposed a $200 incentive for employees who provide documentation that they have received Fall 2021 flu vaccination.
DeKalb County has approximately 6,000 employees.
If approved by the DeKalb County Board of Commissioners, the proposed $500 in COVID-19 and flu vaccinations incentives would be paid for with approximately $1.9 million in American Rescue Plan funds and $1.3 million in the county's annual operating budget.
The voluntary incentive program will provide financial incentives to employees who provide proof of vaccination via a secure web page.
Since June 2021, DeKalb County has given $100 prepaid debit cards to 5,000 eligible residents who received COVID-19 vaccinations during county-sponsored events.
As of Nov. 8, approximately 53 percent of eligible DeKalb County residents are fully vaccinated. In DeKalb, 44.4 percent of African-Americans have received at least one dose, while 57.7 percent of Whites and 73.8 percent of Asians have received at least one dose. Approximately 46.2 percent of Hispanics have received at least one dose.