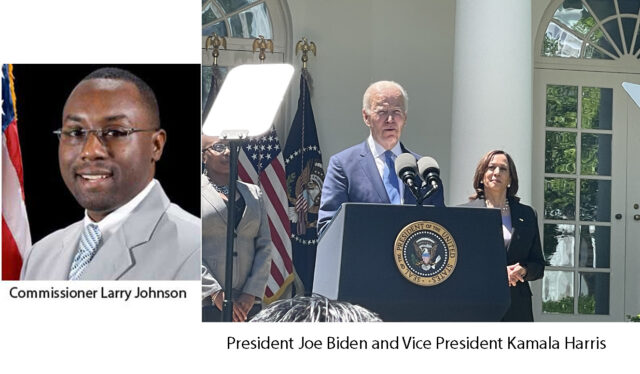 WASHINGTON, D.C.—DeKalb County Commissioner Larry Johnson, in his role as the District 3 Commissioner and President of the National Association of Counties (NACo), attended an event at the White House for an announcement on Affordable High-Speed Internet.
Johnson has been selected as part of an esteemed group of influential civic leaders convening in person, to join President Joe Biden and Vice President Kamala Harris for the announcement on Affordable High-Speed Internet.
The plan is part of the Affordable Connectivity Program (ACP), which was created under the bipartisan infrastructure bill , which was signed into law in November.
"The ACP will help with the digital divide that was amplified during the pandemic while students had to be in virtual learning environment," said Commissioner Larry Johnson.  "We must be intentional about our efforts to ensure equity for all."
Twenty internet service providers have agreed to either lower costs or increase speeds to provide eligible households with access to broadband internet with speeds of at least 100 megabits per second, at a cost of no more than $30 per month, the administration said in a statement released Monday morning. The 20 ISPs, which include AT&T, Verizon and Comcast, cover roughly 80% of the U.S. population, according to the administration.
For more information, contact Commissioner Larry Johnson's office at 404-371-2425 or visit www.commissionerlarryjohnson.com.
Photos provided.