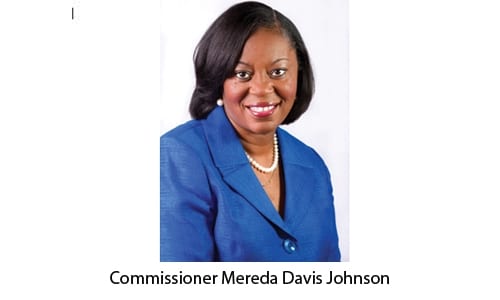 DECATUR, GA – On Thursday, April 28, DeKalb County Commissioner Mereda Davis Johnson announced that she has formally rescinded her endorsement of School Board member DiJuan Dacosta in the District 6 school board election.
"The children are paramount. Parents and prospective residents must feel confident in our educational system", Davis Johnson said.
Davis did not state the reason for rescinding her endorsement. However, her decision follows the controversy surrounding the Board of Education's abrupt removal on April 26 of Cheryl Watson-Harris as school superintendent.
The DeKalb Board of Education and Watson-Harris have come under fire by the public and state officials over dysfunctionality. Several critical issues have gone unaddressed including the deteriorating conditions at Druid Hills High School and other schools in the district.
Watson-Harris is the sixth superintendent the district has had in the last 10 years. She was hired in 2020 for a three-year contract at a base salary of $325,000 a year.  The Board of Education voted 4-1 to dismiss Watson-Harris on April 26 during a virtual meeting.  With the board's decision, Watson-Harris is expected to be paid the remainder of her contract.
The board voted to name Dr. Vasanne Tinsley as the interim superintendent. Tinsley is a retired educator who formerly served as the Deputy Superintendent of Student Support & Intervention in the district. The board has not announced Tinsley's salary.
Meanwhile, the board has scheduled a virtual meeting  and executive session. Following is the notification from the DeKalb County Board of Education:
NOTICE OF DEKALB COUNTY BOARD OF EDUCATION VIRTUAL CALLED MEETING AND EXECUTIVE SESSION:
The DeKalb County Board of Education will hold the following virtual meeting and executive session on Friday, April 29, 2022:
2:00pm          VIRTUAL CALLED MEETING and EXECUTIVE SESSION
Virtual Executive Session
Virtual Called Meeting
The virtual called meeting agenda is attached and can be accessed online by going to: www.dekalbschoolsga.org, click on Leadership, go to Simbli (formally known as eBoard) Home Page and click on the date for the meeting agenda/information.  The virtual meeting can be viewed at the following link on DeKalb Schools TV (DSTV) by going to: www.dekalbschoolsga.org/communications/dstv.