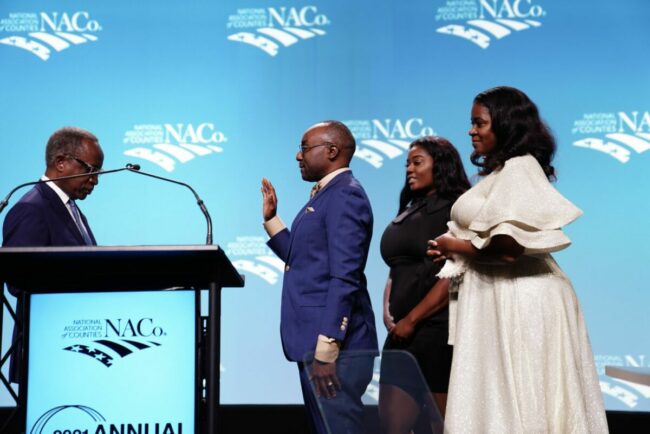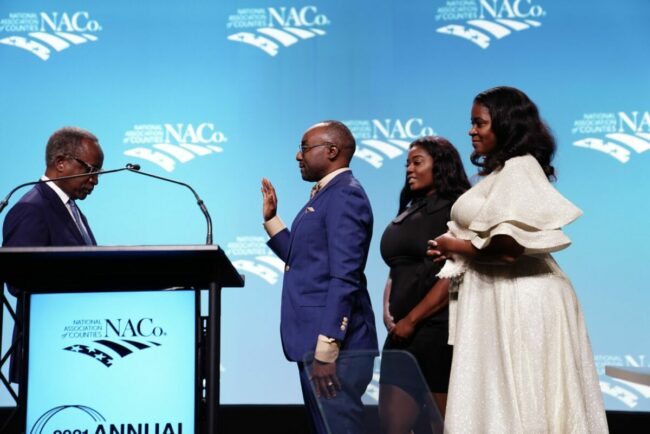 Pictured L-R: DeKalb County CEO Michael Thurmond administers oath of office to DeKalb County Commissioner Larry Johnson, as his wife, Tanisha,  and  daughter Tiara, witness the historic event in Prince George's County, Maryland. Photo by Denny Henry
DeKalb County Commissioner Larry Johnson was sworn in as president of the National Association of Counties (NACo) by DeKalb County CEO Michael L. Thurmond at the conclusion of NACo's 86th Annual Business Meeting on July 12 in Prince George's County, MD.
"I am honored to lead the National Association of Counties as we emerge stronger than ever from this unprecedented public health and economic crisis," said Johnson. "Over the past year, we literally saved lives and delivered critical services to our residents. We must now create opportunities for people and places to thrive."
In his inaugural remarks, Johnson outlined his presidential priority, the THRIVE (Technology, Health, Readiness, Infrastructure, Vulnerable populations and Economic opportunities) initiative. Through this focus, he hopes to uplift examples of county perseverance and problem-solving through the COVID-19 pandemic, and innovative uses of federal funds and local partnerships to improve outcomes for all residents.
Active in NACo since 2005, Johnson has served as chair of the Large Urban County Caucus, Finance Committee, Health Policy Committee and International Economic Development Task Force. He has also participated in the Healthy Counties Advisory Board.
Johnson was first elected commissioner in 2002. He was one of the youngest ever to serve as DeKalb County commissioner.
Held in Prince George's County, Md. and virtually, NACo's Annual Conference attracted nearly 2,000 county leaders and partners from across the country. View pictures of  Johnson's swearing in here. Watch Johnson's inaugural remarks here.