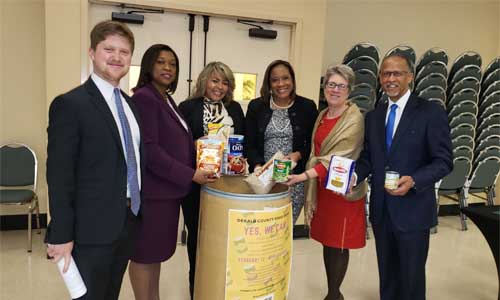 DeKalb County Commissioner Kathie Gannon's "Yes We Can" food drive collected enough food and online donations to create 10,000 meals.
The donations will help the Atlanta Community Food Bank help the 19 percent of DeKalb's population that is "food insecure." These are households who on an occasional or regular basis do not know where their next meal will come from.
The "Yes We Can" food drive is the 10th annual drive sponsored by Gannon, in partnership with DeKlab District Attorney Sherry Boston, Clerk of Superior Court Debra DeBerry, Solicitor-General Donna Coleman-Stribling, Tax Commissioner Irvin Johnson, Javoyne Hicks, clerk of State and Magistrate Courts, the DeKalb County Public Library, and DeKalb Senior Centers.
"Thank you to everyone who contributed. 10,000 meals will feed a lot of people," said Gannon. "We are grateful for the generous contributions from DeKalb County employees and citizens."