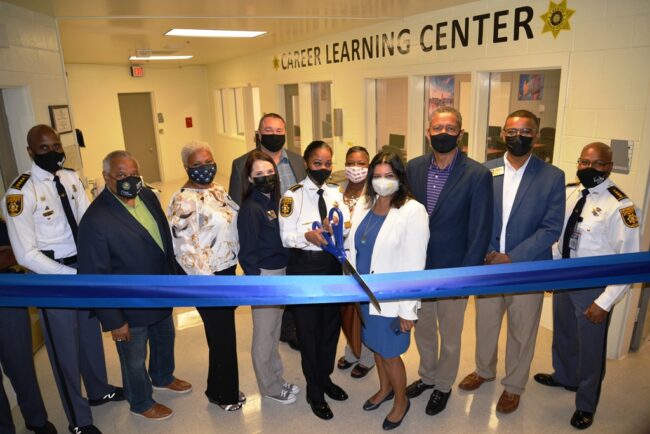 DECATUR, GA—The DeKalb County Sheriff's Office unveiled its newly- renovated Career Learning Center for DeKalb Jail inmates with a ribbon-cutting ceremony on June 19.
DeKalb Sheriff Melody M. Maddox hosted the event with the agency's new corporate partners and longtime supporters of the jail's inmate education programs.
"We are grateful for contributions from Delta Air Lines, the Georgia-Pacific Foundation, and the Georgia Power Foundation, Inc. which helped make the new Career Learning Center a reality," said Sheriff Maddox. "With the updated technology and classrooms made possible by their participation, we can now accommodate up to 44 students in our GED, basic adult education classes, and our successful vocational training programs.
"It is evident that these local business leaders understand the impact of this aspect of criminal justice reform on the community," she added. "When we ask men and women in our custody about their education levels and plans for the future, we are offering them a way out that is as important as a bail bond. It is our hope they will accept the offer and let us help change their lives for the better."
The sheriff's office has ongoing alliances with Georgia Piedmont Technical College (GPTC) to help inmates complete high school equivalency requirements so they can quality for employment and with WorkSource DeKalb to help inmates pursue meaningful careers after release. Some 3,000 inmates have completed GED classes at the DeKalb County Jail since inmate education programs began. The Sheriff's Office Reserves Unit supports the initiative by providing security and transportation.