WEST HELENA, AR—DeKalb County resident Amos King and his family members this weekend are celebrating the legacy of the late Elizabeth Cash Green, King's great-grandmother, who is believed to be the last survivor of slavery in America.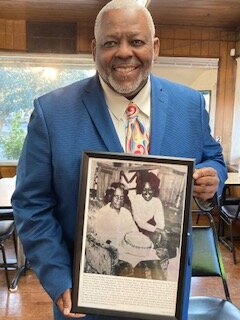 Green, who was born on June 2,1862, died in Helena, Arkansas on Feb. 20,1975 at the age of 112, King said. Although Wikipedia reports that Peter Mills (Oct 26, 1861-Sept 22, 1972) was the last known surviving American born into slavery, King and his family say the Helena (Arkansas) World newspaper chronicled Green's 111th birthday, more than two years after Mills had already died.
On Saturday (Feb. 25), a portrait of Green will be donated to the former Eliza Miller Jr. High School's library museum in West Helena, Arkansas. King lived with his great-grandmother in nearby Helena.
"We have dozens of family members who will be attending the program on Saturday to honor her memory and celebrate her legacy," said King, who is an Atlanta radio commentator, community activist and former U.S. Army lieutenant colonel.
King said that his great-grandmother was born a slave on June 2,1862 in Midland, Georgi, three years before the end of the Civil War. In 1882, she moved to Arkansas.
Green's life spanned a broad spectrum of American history including Slavery Reconstruction, the turn of the century, World War I and World War2, the Elaine, Arkansas Massacre (where she lived at the time), Floods of 1927, the Great Depression, Korean War, Vietnam War, the Civil Rights Movement and Watergate.
During her lifetime, Green was married twice and had three children, King said. After moving to Helena, she joined the Beautiful Zion Missionary Baptist Church where she was active until her death, serving on the Mother's Board for many years.
"She lived a very active life in the community and was respected by everyone. She was well over a hundred years old, still doing her own cooking and house cleaning," King said. "…She told me that there are two things I should never forget; never take anything that don't belong to me and if the Lord is for you, then who can be against you?"
Green has six living granddaughters and several generations of great-grandchildren. Green is buried in the Oneida (Arkansas) Community Cemetery.