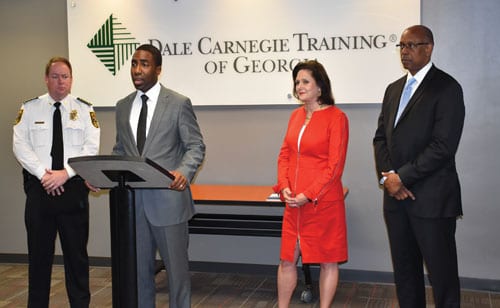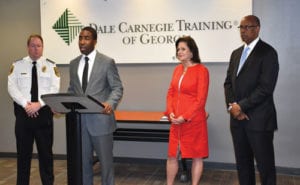 The DeKalb County Police Department is receiving customized training that county officials hope will build trust between citizens and the police, thanks to a new partnership with Dale Carnegie of Georgia training program.
DeKalb leaders, including Deputy Chief Operating Officer of Public Safety Cedric Alexander, DeKalb Police Chief James Conroy and Interim CEO Lee May, discussed the new training program at a press conference held on Aug. 18.
Alexander, who was selected by President Obama for the President's Task Force on 21st Century Policing, helped developed the "pillars" for the training program. The President's task force was established to strengthen community policing and trust among law enforcement officers and the communities they serve after several police involved shootings across the nation. The training focused on leadership styles, understanding different personalities and traits, applying new methods of understanding to interact with others to include co-workers and community members, and managing diversity. The six pillars included
Building trust and legitimacy
Policy and oversight
Technology and social media
Community policing and crime reduction
Training and education
Officer wellness and safety
Each pillar contains recommendations and actions items to create a roadmap for improved law enforcement.
"President Obama's Task Force on 21st Century Policing developed several recommendations based on six pillars. This training is part of our efforts to incorporate those recommendations into the everyday police operations for the DeKalb County Police Department," said May. "We are doing some tremendous things, from investing heavily in police body cameras to focusing on law enforcement policies and crisis intervention training. We are doing those proactive things in our police department to be forward-thinking, and hopefully, other departments, communities, cities and counties around the country will take note and even duplicate what we are doing."
Wendy Johnson, president of Dale Carnegie of Georgia, said law enforcement in DeKalb is now building bridges in the community with their new Dale Carnegie tools.
"Our goal is to train officers on proven methods to improve communications and human relations in order to build trust within the community," Johnson said.
Chief Conroy said it is imperative that police develop new strategies for public safety. Events across the country in the past couple of years require a new way of policing and a new way of communicating.
"Strong relationships between law enforcement agencies and the community that they serve is essential for public safety," said Conroy. "This new relationship is built on trust, transparency and credibility."