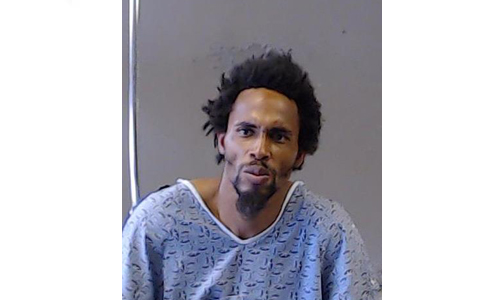 Victor Lee Tucker, Jr.
 DECATUR, GA–Today, June 21, the DeKalb Sheriff's Office released the booking photo for Victor Lee Tucker, Jr., 30, the suspect in the June 14 Big Bear grocery store shooting that left one cashier dead and an off-duty sheriff's deputy injured. According to authorities, Tucker had a dispute with a cashier about his face mask. Tucker was transported to Grady Hospital after the deputy returned fire and shot him. Tucker was initially listed in stable condition. He was released from the hospital on June 18, said DeKalb County Police  Department spokesperson Michaela Vincent. Tucker was booked into the DeKalb County Jail and is facing charges of Murder and two counts of Aggravated Assault.
According to the GBI, Tucker got into an argument with a cashier at the Big Bear grocery store, 2849 Candler Road in Decatur, around 1 p.m. about his face mask. Tucker left the store without making his purchase, but immediately returned inside. Tucker walked directly back to the cashier, pulled out a handgun and shot her, the GBI said in a news release. Tucker then began shooting at  Deputy Danny Jordan, 54, who was working off duty. The deputy and Tucker exchanged gunfire, and both were wounded during the shootout.  Two responding DeKalb County Police Department (DKPD) officers arrested Tucker as he was attempting to crawl out of the front door of the supermarket.
Laquitta Willis, a 41-year-old female cashier, was taken to Grady Memorial Hospital where she was pronounced dead, authorities said.
A second cashier was grazed by a bullet.  She was treated for her injury on the scen
Authorities said Jordan has been released from the hospital.

The GBI is continuing continue its independent investigation.  Once completed, it will be turned over to the DeKalb County District Attorney's Office.