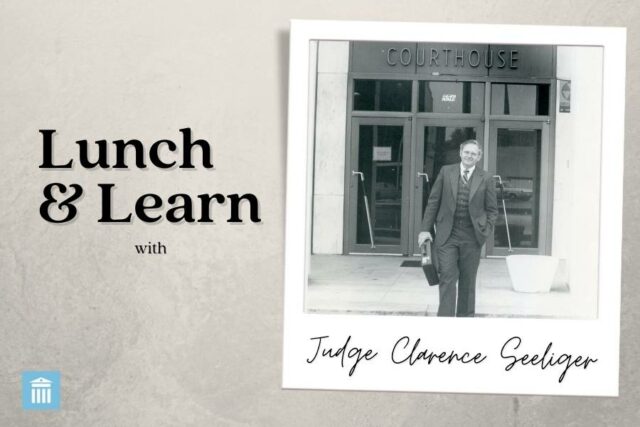 DECATUR, GA – The DeKalb History Center will present as its "Lunch & Learn" guest speaker, retired Judge Clarence Seeliger, on Feb. 1. The free event will be held noon to 1 p.m., at the Historic DeKalb Courthouse, 101 E. Court Square (second floor), Decatur.  The program is free to attend and will be held in person and virtually.
Judge Seeliger, who retired in 2020, will be discussing his career as a judge in DeKalb County and his collection, newly acquired by the DHC, containing archival material spanning 50 years of service.
During his long career as a judge, Judge Seeliger advocated for equal rights, helped to support survivors of domestic abuse, and served in his role to the best of his ability treating those who entered his courtroom with fairness and respect.
Judge Seeliger began practicing criminal and civil in 1970, the same year he graduated from law school at Emory University. He began his law practice in 1971 in Decatur, and in 1980, he successfully won his bid for State Court Judge against incumbent Judge Oscar Mitchell. In 1984, he began his career as a Superior Court Judge and remained in this position until his retirement in 2020.
The Lunch and Learn program will be moderated by Jennifer Blomqvist, archivist for the DeKalb History Center. To watch virtually, visit http://www.dekalbhistory.org/ or tune in at the DeKalb History Center's YouTube page.