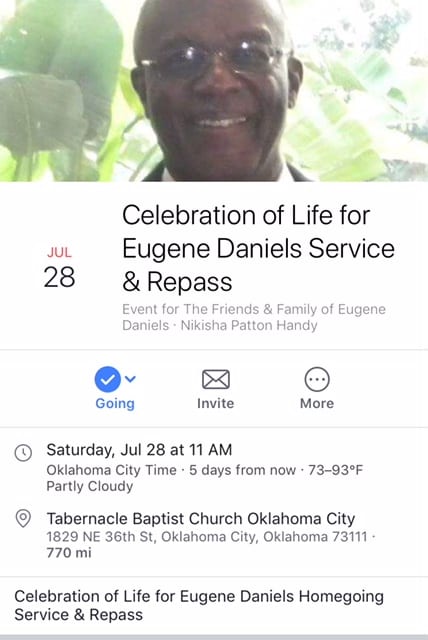 Homegoing services are planned this weekend for retired Master Sgt. Eugene Daniels, brother of Stonecrest City Councilwoman Diane Daniels Adoma. The decorated U.S. Air Force veteran will be laid to rest on Saturday, July 28, 11 a.m., at Tabernacle Baptist Church of Oklahoma City, Oklahoma. He was 76.
Eugene Daniels was born in Climax, Georgia. He accepted Christ at the age of 12. He completed his elementary and secondary education in Albany, Georgia.  It was there that he met and married the love of his life, Melvenia Glynn-Daniels before enlisting in the U.S. Air Force.
Mr. Daniels earned an Associate of Arts degree in Sociology at Oscar Rose Junior College. He then completed a Bachelor of Arts degree in Social Work at the University of Oklahoma, and went on to receive a Masters of Science degree in Education Psychology and Counseling at Northern Arizona University.
After serving 21 years in the United States Air Force, he retired at the rank of Master Sergeant. During his illustrious military career, he was awarded the Meritorious Service Medal, two Air Force Commendation Medals, Vietnam Service Medals with three Bronze Service Stars, six Air Force Good Conduct Medals, and two (2) Air Force Outstanding Unit Awards.
Mr. Daniels retired from the Oklahoma State Department of Human Services after serving 22 years. During his tenure there, he provided Administrative Support to the Governor's Advisory Committee to support the homeless, statewide management of the Refugee Program, and provided services for Families with Dependent Children.
Mr. Daniels served as Recording Steward, Evangelism Team Member, Intercessory Prayer Member for the sick & shut-in, Director of Christian Youth Fellowship and Director of Boy Scouts of America at St. Mary's CME Church and Amos Memorial CME Church. He was a longtime member of the Tinker AFB Chapel where he served as an usher, member of the Men's Bible Study, and faithful member of the Intercessory Prayer Circle.
He was a life member of the Disabled American Veterans, Air Force Sergeant Association, Retired Enlisted Association, NAACP, and OU Black Alumni Association.
Mr. Daniels spent his leisure time participating in various public service projects, church activities and traveling with his wife, Melvenia.
Mr. Daniels will be honored with a proclamation as a Citizen of Distinction by U.S. Congressman Tom Cole, District 4 of Oklahoma.
In addition to his wife, Melvenia, Mr. Daniels is survived by three adult children: Phyllis L. Williams, retired Lieutenant Colonel Anthony E. Daniels (Debbie), and Carla L. Burnett (Willie); siblings: Otis Daniels (Janette); Pearlie Daniels-Clark (Dan); JoAnn Daniels-Harlem; Charlie James Daniels (Ester); Diane Daniels Adoma; and Lucian Mitchell (Amelia); five grandchildren: Nikisha; Vincent, Jr. (DeAnna); Victor; Simone; and Will; and one great-granddaughter, Brielle.