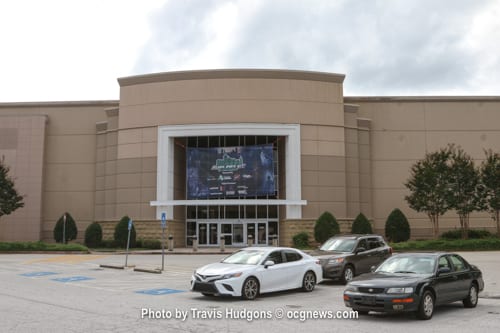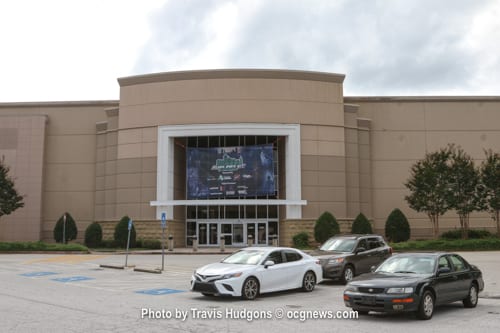 The proposed Atlanta Sports City complex at the Mall at Stonecrest, which was to feature a 15,000-seat stadium, multiple soccer and football fields, is in trouble.
Atlanta Sports Connection, Inc. has defaulted on its $2. 25 million loan for the former Kohl's building located at 8010 Mall Parkway. The property was scheduled to be sold on the DeKalb County courthouse steps on Oct. 2, according to a notice of sale under power, which was announced in the county's legal organ.
No one could be reached to discuss the outcome of the sale, despite efforts to contact partners Patrick Henderson and Zeric Foster; developer Vaughn Irons,  the Mall at Stonecrest, Urban Retail Properties, LLC, which owns The Mall at Stonecrest, and Attorney Garrett Nail.
Developers acquired the two-story, 145,000-square-foot building on Oct. 5, 2017.
View legal notice below:
Notice Content

430-415451 9/6,9/13,9/20,9/27jbNOTICE OF SALE UNDER POWER IN DEEDTO SECURE DEBT, ASSIGNMENT OF RENTS AND LEASES AND SECURITY AGREEMENT DEKALB COUNTY, GEORGIAUnder and by virtue of the Power of Sale contained in a DEED TO SECURE DEBT, ASSIGNMENT OF RENTS AND LEASES AND SECURITY AGREEMENT (the "Security Deed") given by ATLANTA SPORTS CONNECTION, INC., a Georgia corporation ("Grantor") in favor of BAY POINT CAPITAL PARTNERS, LP, a Delaware limited partnership ("Lender"), dated October 4, 2017, recorded, on or about October 10, 2017, at Deed Book 26533, Page 417 et seq. in the real estate records of the Dekalb County Superior Court ("Dekalb County Records"), conveying the after-described property and securing the indebtedness evidenced by that certain Promissory Note, dated October 5, 2017, in the original principal amount of TWO MILLION TWO HUNDRED FIFTY THOUSAND AND 00/100 DOLLARS ($2,250,000.00), made payable by Grantor to the order of Lender (as at any time assigned, amended, modified or restated, with interest thereon as set forth therein, the "Note"), there will be sold at public outcry to the highest bidder for cash before the courthouse door of Dekalb County, Georgia, within the legal hours of sale on October 2, 2018, all the property described in said Security Deed, to-wit:PARCEL ONE:ALL THAT TRACT OR PARCEL OF LAND LYING AND BEING IN LAND LOTS 151 AND 170, 16TH DISTRICT, DEKALB COUNTY, GEORGIA, AND BEING MORE PARTICULARLY DESCRIBED AS FOLLOWS:TO FIND THE TRUE POINT OF BEGINNING, COMMENCE AT AN "X" CARVED INTO STONE OUTCROPPING AT THE CORNER COMMON TO LAND LOTS 150, 151, 170 ANT) 171; RUN THENCE NORTH 54 DEGREES 16 MINUTES 38 SECONDS EAST A DISTANCE OF 169.34 FEET TO A POINT IN THE NORTHEASTERLY RIGHT OF WAY LINE OF MAL PARKWAY (100-FOOT RIGHT OF WAY); RUN THENCE ALONG SAID NORTHEASTERLY RIGHT OF WAY LINE NORTH 50 DEGREES 46 MINUTES 19 SECONDS WEST A DISTANCE OF 1137.00 FEET TO A POINT AND THE TRUE POINT OF BEGINNING; FROM THE TRUE OF POINT OF BEGINNING AS THUS ESTABLISHED, CONTINUE ALONG SAID NORTHEASTERLY RIGHT OF WAY LINE NORTH 50 DEGREES 46 MINUTES 19 SECONDS WEST A DISTANCE OF 103.50 FEET TO A POINT; LEAVING SAID NORTHEASTERLY RIGHT OF WAY LINE, RUN THENCE ALONG A CURVE TO THE LEFT AN ARC DISTANCE OF 95.82 FEET (SAID ARC BEING SUBTENDED BY A CHORD BEARING NORTH 84 DEGREES 13 MINUTES 41 SECONDS EAST A CHORD DISTANCE OF 86.27 FEET AND HAVING A RADIUS OF 61.00 FEET) TO A POINT; RUN THENCE NORTH 39 DEGREES 13 MINUTES 41 SECONDS EAST A DISTANCE OF 634.94 FEET TO A POINT; RUN THENCE ALONG A CURVE TO THE RIGHT AN ARC DISTANCE OF 145.07 FEET (SAID ARC BEING SUBTENDED BY A CHORD BEARING NORTH 47 DEGREES 31 MINUTES 32 SECONDS EAST A CHORD DISTANCE OF 144.56 FEET AND HAVING A RADIUS OF 500.87 FEET) TO A POINT; RUN THENCE ALONG A CURVE TO THE LEFT AN ARC DISTANCE OF 75.65 FEET (SAID ARC BEING SUBTENDED BY A CHORD BEARING NORTH 20 DEGREES 00 MINUTES 00 SECONDS EAST A CHORD DISTANCE OF 70.82 FEET AND HAVING A RADIUS OF 60.50 FEET) TO A POINT; RUN THENCE NORTH 68 DEGREES 51 MINUTES 01 SECONDS EAST A DISTANCE OF 17.53 FEET TO A POINT; RUN THENCE ALONG A CURVE TO THE RIGHT AN ARC DISTANCE OF 530.19 FEET (SAID ARC BEING SUBTENDED BY A CHORD BEARING NORTH 02 DEGREES 09 MINUTES 49 SECONDS WEST A CHORD DISTANCE OF 520.54 FEET AND HAVING A RADIUS OF 800.00 FEET) TO A POINT; RUN THENCE NORTH 16 DEGREES 49 MINUTES 20 SECONDS EAST A DISTANCE OF 128.10 FEET TO A POINT; RUN THENCE ALONG A CURVE TO THE RIGHT AN ARC DISTANCE OF 446.99 FEET (SAID ARC BEING SUBTENDED BY A CHORD BEARING NORTH 38 DEGREES 31 MINUTES 35 SECONDS EAST A CHORD DISTANCE OF 436.38 FEET AND HAVING A RADIUS OF 590.00 FEET) TO A POINT; RUN THENCE NORTH 60 DEGREES 13 MINUTES 49 SECONDS EAST A DISTANCE OF 132.68 FEET TO A POINT; RUN THENCE ALONG A CURVE TO THE RIGHT AN ARC DISTANCE OF 6.06 FEET (SAID ARC BEING SUBTENDED BY A CHORD BEARING NORTH 60 DEGREES 28 MINUTES 42 SECONDS EAST A CHORD DISTANCE OF 6.06 FEET AND HAVING A RADIUS OF 700.00 FEET) TO A POINT; RUN THENCE SOUTH 30 DEGREES 00 MINUTES 00 SECONDS EAST A DISTANCE OF 310.81 FEET TO A POINT; RUN THENCE NORTH 60 DEGREES 00 MINUTES 00 SECONDS EAST A DISTANCE OF 89.91 FEET TO A POINT; RUN THENCE SOUTH 31 DEGREES 06 MINUTES 08 SECONDS EAST A DISTANCE OF 344.07 FEET TO A POINT; RUN THENCE SOUTH 69 DEGREES 22 MINUTES 30 SECONDS EAST A DISTANCE OF 48.34 FEET TO A POINT; RUN THENCE SOUTH 20 DEGREES 37 MINUTES 30 SECONDS WEST A DISTANCE OF 282.33 FEET TO A POINT; RUN THENCE NORTH 69 DEGREES 22 MINUTES 30 SECONDS WEST A DISTANCE OF 105.50 FEET TO A POINT; RUN THENCE SOUTH 20 DEGREES 37 MINUTES 30 SECONDS WEST A DISTANCE OF 37.58 FEET TO A POINT; RUN THENCE NORTH 69 DEGREES 22 MINUTES 30 SECONDS WEST A DISTANCE OF 164.62 FEET TO A POINT; RUN THENCE SOUTH 69 DEGREES 22 MINUTES 30 SECONDS WEST A DISTANCE OF 550.91 FEET TO A POINT; RUN THENCE ALONG A CURVE TO THE LEFT AN ARC DISTANCE OF 200.51 FEET (SAID ARC BEING SUBTENDED BY A CHORD BEARING SOUTH 19 DEGREES 58 MINUTES 11 SECONDS EAST A CHORD DISTANCE OF 199.96 FEET AND HAVING A RADIUS OF 780.00 FEET) TO A POINT; RUN THENCE ALONG A CURVE TO THE LEFT AN ARC DISTANCE OF 212.68 FEET (SAID ARC BEING SUBTENDED BY A CHORD BEARING SOUTH 52 DEGREES 31 MINUTES 15 SECONDS WEST A CHORD DISTANCE OF 210.78 FEET AND HAVING A RADIUS OF 458.37 FEET) TO A POINT; RUN THENCE SOUTH 39 DEGREES 13 MINUTES 41 SECONDS WEST A DISTANCE OF 695.94 FEET TO A POINT ON THE NORTHEASTERLY RIGHT OF WAY LINE OF MALL PARKWAY AND THE TRUE POINT OF BEGINNING; SHOWN AS "PARISIAN" AND CONTAINING 12.813 ACRES ON THAT CERTAIN PLAT OF SURVEY ENTITLED "ALTA/ACSM LAND TITLE SURVEY FOR STONECREST MALL, LLC", PREPARED BY DEVELOPMENT CONSULTANTS GROUP, BEARING THE SEAL AND CERTIFICATION OF DONALD G. HOLLAND, GEORGIA REGISTERED LAND SURVEYOR NO. 2637, DATED OCTOBER 10, 2000, LAST REVISED FEBRUARY 7, 2001.PARCEL TWO:EASEMENTS AND OTHER INTERESTS IN REAL PROPERTY CONTAINED IN THAT CERTAIN DECLARATION OF SURFACE AND STORM WATER DRAINAGE EASEMENTS BY DEKALB CENTER ASSOCIATES, AS RECORDED IN DEED BOOK 5470 AT PAGE 390; AS AMENDED BY THAT CERTAIN FIRST AMENDMENT TO DECLARATION OF SURFACE AND STORM WATER DRAINAGE EASEMENT BY AND BETWEEN DEKALB CENTER ASSOCIATES, AND JDN ASSOCIATES, LTD., TURNER HILL ROAD, AS RECORDED IN DEED BOOK 5486 AT PAGE 511; AS FURTHER AMENDED BY THAT CERTAIN SECOND AMENDMENT TO DECLARATION OF SURFACE AND STORM WATER DRAINAGE EASEMENTS BY DEKALB CENTER ASSOCIATES, AND ATLANTA EAST MAIL LIMITED PARTNERSHIP, AS RECORDED IN DEED BOOK 6421 AT PAGE 271; AS FURTHER AMENDED BY THAT CERTAIN THIRD AMENDMENT TO DECLARATION OF SURFACE AND STORM WATER DRAINAGE EASEMENTS BY DEKALB CENTER ASSOCIATES, LEWIS G. ABBOTT, BETTY L. ABBOTT, PAT ABBOTT, AS EXECUTRIX OF THE ESTATE OF ROBERT G ABBOTT, AND JOSEPH ABBOTT AS EXECUTOR OF JOSEPH ERNEST ABBOTT, AS RECORDED IN DEED BOOK 6629 AT PAGE 189.PARCEL THREE:EASEMENTS AND OTHER INTERESTS IN REAL PROPERTY CONTAINED IN THAT CERTAIN CONSTRUCTION, OPERATION AND RECIPROCAL EASEMENT AGREEMENT BY AND AMONG STONECREST MALL, LLC, DEVELOPMENT AUTHORITY OF DEKALB COUNTY, DILLARD'S, INC., SEARS, ROEBUCK AND CO., J. C. PENNEY COMPANY, INC., PARISIAN, INC., AND RICH'S DEPARTMENT STORES, INC., AS RECORDED IN DEED BOOK 11897 AT PAGE 186; AS AFFECTED BY FIRST AMENDMENT TO CONSTRUCTION, OPERATION AND RECIPROCAL EASEMENT AGREEMENT FROM DEVELOPMENT AUTHORITY OF DEKALB COUNTY, GEORGIA, A PUBLIC BODY CORPORATE AND POLITIC OF THE STATE OF GEORGIA, STONECREST MALL, LLC, A GEORGIA LIMITED LIABILITY COMPANY DILLARD'S INC., A DELAWARE CORPORATION MACY'S RETAIL HOLDINGS, INC., A NEW YORK CORPORATION (AS SUCCESSOR-IN-INTEREST TO RICH'S DEPARTMENT STORES, INC.), SEARS, ROEBUCK AND CO., A NEW YORK CORPORATION, BELK, INC., A DELAWARE CORPORATION (AS SUCCESSOR-IN-INTEREST TO PARISIAN, INC., AN ALABAMA CORPORATION), J.C. PENNEY COMPANY, INC., A DELAWARE CORPORATION, AND KOHL'S DEPARTMENT STORES, INC., A DELAWARE CORPORATION, DATED AUGUST 31, 2007 [SIC], FILED FOR RECORD AUGUST 3, 2007 AT 10:28 A.M., RECORDED IN DEED BOOK 20185, PAGE 668, AFORESAID RECORDS, AND RE-RECORDED ON OCTOBER 23, 2007 AT DEED BOOK 20391, PAGE 690, AFORESAID RECORDS.PARCEL FOUR:EASEMENTS AND OTHER INTERESTS IN REAL PROPERTY CONTAINED IN THAT CERTAIN DECLARATION OF EASEMENTS, COVENANTS, CONDITIONS & RESTRICTIONS BY DEVELOPMENT AUTHORITY OF DEKALB COUNTY, GEORGIA, A PUBLIC BODY CORPORATE AND POLITIC, DEKALB CENTER ASSOCIATES, A GEORGIA LIMITED PARTNERSHIP, AND CFN (I-20) INC., A DELAWARE CORPORATION, DATED FEBRUARY 26, 2001, FILED FOR RECORD FEBRUARY 27, 2001 AT 12:00 P.M., RECORDED IN DEED BOOK 11897, PAGE 70, AFORESAID RECORDS; AS AFFECTED BY ASSIGNMENT OF DECLARANT'S RIGHTS AND POWERS UNDER DECLARATION OF EASEMENTS, COVENANTS, CONDITIONS & RESTRICTIONS BY AND BETWEEN DEKALB CENTER ASSOCIATES, A GEORGIA LIMITED PARTNERSHIP, AND STONECREST MALL, LLC, A GEORGIA LIMITED LIABILITY COMPANY, DATED FEBRUARY 26, 2001, FILED FOR RECORD FEBRUARY 27, 2001 AT 12:00 P.M., RECORDED IN DEED BOOK 11898, PAGE 29, AFORESAID RECORDS; AS SUPPLEMENTED BY SUPPLEMENT TO DECLARATION OF EASEMENTS, COVENANTS, CONDITIONS AND RESTRICTIONS BY STONECREST MALL, LLC, A GEORGIA LIMITED LIABILITY COMPANY, AND STONECREST LAND INVESTMENT, LLC, A GEORGIA LIMITED LIABILITY COMPANY, DATED AS OF OCTOBER 4, 2001, FILED FOR RECORD DECEMBER 20, 2001 AT 11:33 AM., RECORDED IN DEED BOOK 12759, PAGE 483, AFORESAID RECORDS; AS FURTHER SUPPLEMENTED BY SUPPLEMENT TO DECLARATION OF EASEMENTS, COVENANTS, CONDITIONS AND RESTRICTIONS BY STONECREST MALL, LLC, A GEORGIA LIMITED LIABILITY COMPANY, AND STAFFORD STONECREST, LLC, A GEORGIA LIMITED LIABILITY COMPANY, DATED AS OF OCTOBER 11, 2001, FILED FOR RECORD MARCH 18, 2002 AT 12:10 P.M., RECORDED IN DEED BOOK 13040, PAGE 347, AFORESAID RECORDS; AS FURTHER SUPPLEMENTED BY SUPPLEMENT TO DECLARATION OF EASEMENTS, COVENANTS, CONDITIONS AND RESTRICTIONS BY STONECREST MALL, LLC, A GEORGIA LIMITED LIABILITY COMPANY, AND STONECREST LAND INVESTMENT, LLC, A GEORGIA LIMITED LIABILITY COMPANY, DATED AS OF NOVEMBER 4, 2002, FILED FOR RECORD NOVEMBER 8, 2002 AT 10:22 A.M., RECORDED IN DEED BOOK 13810, PAGE 675, AFORESAID RECORDS; AS FURTHER SUPPLEMENTED BY SUPPLEMENT TO DECLARATION OF EASEMENTS, COVENANTS, CONDITIONS AND RESTRICTIONS BY STONECROST MALL, LLC, A GEORGIA LIMITED LIABILITY COMPANY, AND STONECREST LAND INVESTMENT, LLC, A GEORGIA LIMITED LIABILITY COMPANY, DATED AS OF JUNE 11, 2003, FILED FOR RECORD JUNE 20, 2003 AT 2:24 P.M., RECORDED IN DEED BOOK 14654, PAGE 742, AFORESAID RECORDS; AS FURTHER SUPPLEMENTED BY SUPPLEMENT TO DECLARATION OF EASEMENTS, COVENANTS, CONDITIONS AND RESTRICTIONS BY STONECREST MALL, LLC, A GEORGIA LIMITED LIABILITY COMPANY, AND CFN (I-20), INC., A DELAWARE CORPORATION, DATED AS OF APRIL 13, 2005, FILED FOR RECORD APRIL 14, 2005 AT 10:57 A.M., RECORDED IN DEED BOOK 17318, PAGE 58, AFORESAID RECORDS; AS FURTHER SUPPLEMENTED BY SUPPLEMENT TO DECLARATION OF EASEMENTS, COVENANTS, CONDITIONS AND RESTRICTIONS BY STONECREST MALL, LLC, A GEORGIA LIMITED LIABILITY COMPANY, AND CFN (I-20), INC., A DELAWARE CORPORATION, DATED AS OF JULY 15, 2005, FILED FOR RECORD JULY 18, 2005 AT 3:37 P.M., RECORDED IN DEED BOOK 17666, PAGE 146, AFORESAID RECORDS; AS FURTHER SUPPLEMENTED BY SUPPLEMENT TO DECLARATION OF EASEMENTS, COVENANTS, CONDITIONS AND RESTRICTIONS BY STONECREST MALL, LLC, A GEORGIA LIMITED LIABILITY COMPANY, AND CFN (I-20), INC., A DELAWARE CORPORATION DATED AS OF JANUARY 9, 2006, FILED FOR RECORD JANUARY 10, 2006 AT 2:42 P.M., RECORDED IN DEED BOOK 18307, PAGE 728, AFORESAID RECORDS; AS FURTHER SUPPLEMENTED BY SUPPLEMENT TO: DECLARATION OF EASEMENTS, COVENANTS, CONDITIONS AND RESTRICTIONS BY STONECREST MALL, LLC, A GEORGIA LIMITED LIABILITY COMPANY, AND CFN (I-20), INC., A DELAWARE CORPORATION, DATED AS OF OCTOBER 27, 2006, FILED FOR RECORD NOVEMBER 2, 2006 AT 12:41 P.M., RECORDED IN DEED BOOK 19325, PAGE 255, AFORESAID RECORDS; AS FURTHER AFFECTED BY THAT SUPPLEMENTAL DECLARATION OF EASEMENTS, COVENANTS, CONDITIONS AND RESTRICTIONS DATED JUNE 30, 2008 AND RECORDED SEPTEMBER 30, 2008 IN DEED BOOK 21069, PAGE 191, AFORESAID RECORDS.TOGETHER WITH all right, title, and interest of Grantor, including any after-acquired title or reversion, in and to the rights-of-ways, streets, and alleys adjacent thereto, all easements, and licenses, appertaining thereto, all strips and gores of land adjacent thereto, all vaults, sewers, sewer rights, waters, water courses, water rights and powers, pumps, pumping plants, pipes, flumes, and ditches appertaining thereto, all oil, gas, and other minerals located thereunder, all shrubs, crops, trees, timber and other emblements now or hereafter located thereon, and all estates, rights, titles, interests, privileges, liberties, tenements, hereditaments, and appurtenances whatsoever, in any way belonging, relating to, or appertaining to any of the foregoing (collectively hereinafter referred to as the "Land");TOGETHER WITH (i) all buildings and improvements erected on the Land (ii) all fixtures, machinery, equipment and other articles of real, personal or mixed property attached to, situated or installed in or upon, or used in the operation or maintenance of, the Land or any buildings or improvements situated thereon, whether or not such real, personal or mixed property is or shall be affixed to the Land; (iii) all building materials, building machinery and building equipment delivered on site to the Land during the course of, or in connection with, any construction, repair or renovation of the buildings and improvements situated or to be situated thereon; (iv) all leases, licenses or occupancy agreements of all or any part of the Land and all extensions, renewals and modifications thereof, and any options, rights of first refusal or guarantees relating thereto; all rents, income, revenues, security deposits, issues, profits, awards and payments of any kind payable under the leases or otherwise arising from the Land; (v) all contract rights, accounts receivable and general intangibles relating to the Land or the use, occupancy, maintenance, construction, repair or operation thereof; all management agreements, franchise agreements, utility agreements and deposits; all maps, plans, surveys and specifications; all warranties and guaranties; all permits, licenses and approvals; and all insurance policies; (vi) all estates, rights, tenements, hereditaments, privileges, easements, and appurtenances of any kind benefiting the Land; all means of access to and from the Land, whether public or private; and all water and mineral rights; and (vii) all "Proceeds" of any of the above-described property, which term shall have the meaning given to it in the Uniform Commercial Code as in effect in Georgia, whether cash or non-cash, and including insurance proceeds and condemnation awards; and all replacements, substitutions and accessions thereof.The debt secured by said Security Deed has been and is hereby declared due because of, among other possible events of default, failure to pay the indebtedness as and when due and in the manner provided in the Note and Security Deed. The debt remaining in default, this sale will be made for the purpose of paying the same and all expenses of this sale, as provided in Security Deed and by law, including attorney's fees (notice of intent to collect attorney's fees having been given).Pursuant to O.C.G.A. Section 44-14-162.2, the name, address and telephone number of the individual or entity who shall have the full authority to negotiate, amend or modify all terms of the loan on behalf of the Lender (although not required by law to do so) is: Thompson Hine, LLP, Attention Garrett Nail, Esq., and can be contacted at (404) 541-2900, or by writing to 3560 Lenox Road, Suite 1600, Atlanta, Georgia 30326, to discuss possible alternatives to avoid foreclosure. Please be advised that the secured creditor is not required by law to negotiate, amend or modify the terms of the Security Deed.Said property will be sold subject to any outstanding ad valorem taxes (including taxes which are a lien, but not yet due and payable), any matters which might be disclosed by an accurate survey and inspection of the property, any assessments, liens, encumbrances, zoning ordinances, restrictions, covenants, and matters of record superior to the Security Deed first set out above. Grantee reserves the right to sell the Property in one parcel or as an entirety, or in such parcels as Grantee may elect, as permitted in the Security Deed.To the best knowledge and belief of the undersigned, the party in possession of the property is or may be ATLANTA SPORTS CONNECTION, INC. by virtue of that certain Limited Warranty Deed from KOHL'S DEPARTMENT STORES, INC. to Grantor, dated October 5, 2017, recorded at Deed Book 26533, Page 412 et seq., Dekalb County Records and said property is more commonly known as 8010 Mall Parkway, Lithonia, Georgia 30038.BAY POINT CAPITAL PARTNERS, LP, a Delaware limited partnership as Attorney in Fact for ++ATLANTA SPORTS CONNECTION, INC.++Thompson Hine LLPGarrett Nail, Esq.Two Alliance Center3560 Lenox Road, Suite 1600Atlanta, Georgia 30326Telephone: (404) 541-2913