By Mark Brock
DCSD Athletics Specialist
STONECREST, GA—Former Arabia Mountain High School's Chandler Martin has been named the Southern Conference's Defensive Player of the Week. The East Tennessee State linebacker is making a comeback after being redshirted his freshman year due to injury and the COVID-19 pandemic.
The Lithonia native exploded with 23 tackles in East Tennessee's 20-17 loss to The Citadel on Saturday, Sept. 10. Martin entered last Saturday's game with a total of 13 tackles in nine games.
Martin broke East Tennessee's 29-year record of 22, which was set by Nakia Thomas in 1993 against Appalachian State.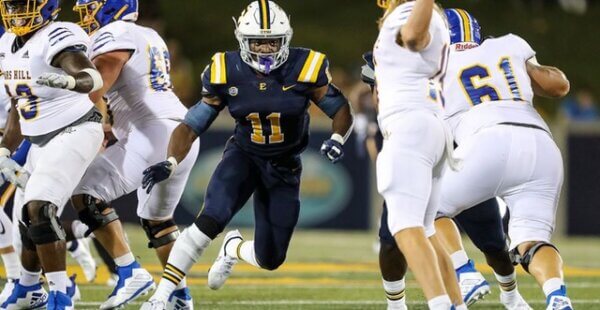 During last Saturday's game, Martin had three solo tackles and 20 assists, including one tackle for a loss. The record-breaking tackle came on the Citadel's final drive of the game as Martin was in on at least six tackles per quarter. The 23 tackles came up one short of the Southern Conference record of 24 held by Western Carolina's Rock Williams on Oct. 13, 2012, also against The Citadel.

The 23 tackles are tied for the most by an FCS and FBS player this season as Delaware's Johnny Buchanan had 23 against Navy on Sept. 3.
"Chandler is a great kid and comes from a great family," said Martin's former head coach at Arabia Mountain Stanley Pritchett. "He is a hard worker and a good student. I am not surprised he had that kind of game. He always had a nose for the football."
Martin led the Araia Rams with 108 tackles in 2019, including 15 for a loss, while also playing running back and leading the team in touchdowns. He was also an Honor Roll Student all four years at Arabia Mountain.
Martin is the son of Jeff and Sherlonda Martin.
Mark Brock is Athletics Specialist for Media Relations for the DeKalb County School District.