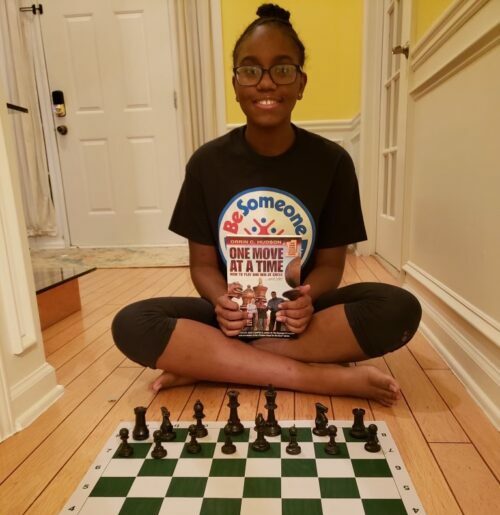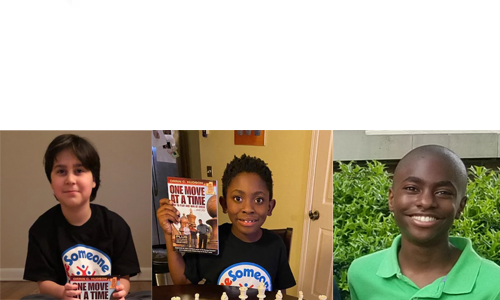 Pictured Top: First-place winner Desmoine Bennett,14
Bottom L-R: Second-place winner Marcus Harris, 9, and third-place winners Steve Sadiq, 9, and David "DJ" Dorsey, 14
STONE MOUNTAIN, GA– Desmoine Bennett,14, wiped out all of her competitors in a chess tournament hosted by Orrin "Checkmate" Hudson, founder of the Be Someone mentoring program based in DeKalb County. The Be Someone program uses chess to train and teach life skills to students.
Bennett, a Champion Middle School student, stood out in the online tournament as the only female who competed in the predominately male event. She won the $175 first-place prize, along with a chess board and other prizes.
"She (Bennett) has a mind for chess. Someday, she is going to be big time. She played me and almost took me out," said Hudson.
The tournament, which was held in May, culminated Hudson's 8-week, online "Chess for Success" spring camp, which was offered for free to DeKalb County youths ages 6-18 through the DeKalb Office of Youth Services.
Hudson said the camp is open to boys and girl and he is excited to welcome more and more girls who not only want to learn to play chess but compete.
"I'm training students to be critical thinkers. They're learning how to be world class chess players. I'm hoping to take them to    compete in the July 4, 2022 World Open Chess tournament, which will be held in Philadelphia," said Hudson.
Marcus Harris, 9, won the second-place tournament prize of $125 and $100 for a rap contest entitled "Get in the Game." Harris is a student at DeKalb's Evansdale Elementary School and has been playing chess for about a year, Hudson said.
Hudson said there were two students who placed third in the tournament and each won $75:
Steve Sadiq, 9, a student at Sagamore Hills Elementary School. Sadiq has been playing chess for about a year, Hudson said.
David "DJ" Dorsey, 14, a homeschooler  was introduced to the game of chess at DeKalb County's Sue Kellogg Library. Dorsey was about 8 years old when he began playing chess, his mother said.
"We have had some really dynamic children in the program. It's an opportunity for them to learn and have fun. They can compete in the tournament if they choose, but it is not required," Hudson said.
Hudson is currently accepting registrants for the "Chess for Success" camp, which started on June 5. He said the free camp will end on July 31 with a chess tournament, offering cash and other goodies.
More information is available at DeKalb Offices Of Youth Services:
https://dekalboys.org/chess-class/