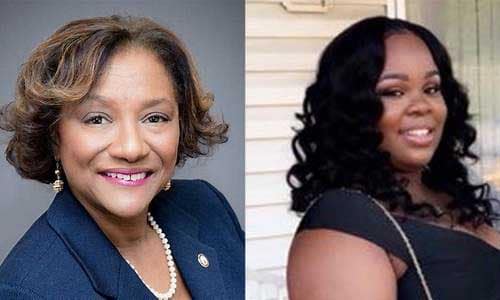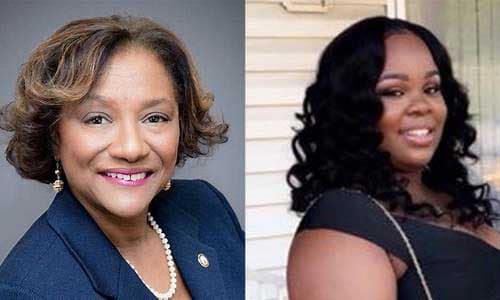 Pictured L-R: State Rep. Karen Bennett, Breonna Taylor 
ATLANTA – State Rep. Karen Bennett (D-Stone Mountain), chair of the Georgia Legislative Black Caucus (GLBC), today (Sept. 28) issued the following statement regarding the Jefferson County, Kentucky grand jury Sept. 23 charges stemming from the death of Breonna Taylor by Louisville law enforcement officers:
"As a Black woman, mother and legislator, I am appalled that Ms. Breonna Taylor is still being denied the justice she deserves. This essential health worker was killed in the middle of the night inside her home. Today, her family continues to suffer from the weight of injustice and disillusionment with the criminal justice system.
"In Georgia, we have our own cases to consider with Mr. Ahmaud Arbery and Mr. Rayshard Brooks. Too many Americans have become victims of racial violence; however, we remain vigilant in our pursuit of freedom, equity, and justice for all.
"As a legislator, I will continue acting in the best interest of all Georgians to support public policy that addresses the systemic inequities plaguing our state. Foremost, I am committed to exploring any and all policy measures to ensure that 'equal justice under the law' becomes a statement of fact and not aspirational language."
Bennett's statement follows protests around the country with the grand jury's indictment of one of the police officers on lesser charges in the shooting death of the 26-year-old Taylor. The other two officers were not charged at all.
Taylor was fatally shot by white Louisville Metro Police Department officers Jonathan Mattingly, Brett Hankison and Myles Cosgrove on March 13 during a raid. Taylor's boyfriend, Kenneth Walker, said he thought intruders had forced their way into Tayor's apartment and he fired a warning shot. The officers returned fire and Taylor was fatally wounded, hit by six bullets. Walker was was not hurt.               
State Rep. Karen Bennett represents District 94, which includes portions of DeKalb and Gwinnett counties.