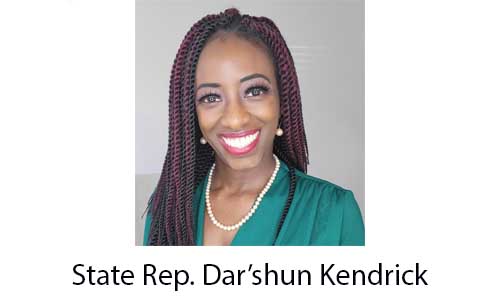 ATLANTA – State Rep. Dar'shun Kendrick (D-Lithonia) will host a tour event to highlight and showcase Black-owned farms and farm-to-table bistros around the metro Atlanta area on Saturday, April 30, 2022, 8:30 a.m. – 6 p.m.
The event is already sold out. However, those who are interested in future tour events are encouraged to check Facebook page for announcements about future tour events, Kendrick said in a news release issued today (Nov. 29).
Kendrick said she was inspired to do the black-owned farms tour   after posting on social media that she wanted to raise awareness about Georgia's black farmers.  "This isn't just a social club. It's about bringing awareness and advocating policy ideas for our Georgia Black Farmers. All this came from a Facebook post asking who wanted to join me to visit some local black farms and I was overwhelmed with responses," said Kendrick. "This is the first of our quarterly tours so excited about it."
The upcoming Spring tour will feature Black farmers and entrepreneurs in the Atlanta area who own, grow, sell and/or prepare organic, farm-grown food.
At each tour location, participants will be able to purchase "fresh from the farm" produce and products, Kendrick said. Individual farmers will share their personal stories, successes, failures, inspiration and vision for the future of urban agriculture. The tour will be followed by a light farm-fresh lunch, networking and cocktail hour.
Rep. Kendrick will host this event in partnership with Nicole Clark, Clark Global Realty Group; Wayne Swanson, Swanson Family Farm, LLC; and Katrina "Katie" Kissel, Unearthing Farm and Market.
For more information about the tour,  click here.