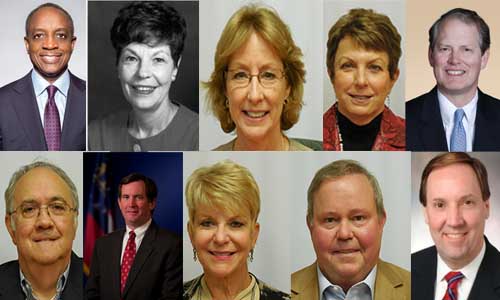 Gov. Nathan Deal has appointed DeKalb County CEO Michael Thurmond to the Stone Mountain Memorial Association board, which oversees the country's largest monument to the Confederate war dead. The appointment makes Thurmond the only African-American member of the 10-member board. One member who is not pictured on the boards' website is Roy N. Roberts.
Thurmond could not be reached for comment, but county spokesman Andrew Cauthen confirmed that Thurmond had accepted the appointment.
Thurmond is a historian and author. His book, Freedom: Georgia's Antislavery Heritage, 1733-1865, was awarded the Georgia Historical Society's Lilla Hawes Award. The Georgia Center for the Book listed Freedom as one of The 25 Books All Georgian's Should Read.
Thurmond's appointment to the board comes amidst a heated national debate concerning the removal of Confederate landmarks that has been fueled by the recent deadly violence over Charlotteville, Virginia's plans to remove a statue of Confederate Gen. Robert E. Lee from a downtown park. A riot broke out in Charlottesville when white supremacists attacked counter protestors. James Alex Fields, Jr. was charged with second-degree murder and other counts after driving a car into a crowd and killing counter protestor Heather Heyer, 32.
Locally, the state-owned Stone Mountain Park, which boasts a massive carving of Confederate President Jefferson Davis and Generals Robert E. Lee and Thomas "Stonewall" Jackson on Stone Mountain, has come under fire from community activists and others who want the carving removed.
Democratic gubernatorial candidate Stacey Abrams has called for the removal of the carving, saying it "remains a blight on our state and should be removed."
Meanwhile, State Rep. Vernon Jones has said he plans to introduce legislation that would create a state commission on historic monuments during the 2018 legislative session of the Georgia General Assembly.
"The recent events in Charlottesville, VA have spurred on calls for the removal of historical monuments and artifacts that honor a dark era in Georgia's history," said Rep. Jones. "While I have my personal beliefs on the matter, I propose that a bipartisan, systematic and transparent study be conducted in an effort to arrive at an inclusive solution."
Jones said the commission would hold statewide hearings to discuss historic monuments and artifacts, and would make recommendations to the governor and the General Assembly regarding monument placement and the possibility of adding new monuments that hold historic value to the citizens of Georgia.
"Hysteria and knee jerk reactions are not the solution. Sensitive subjects such as this deserve calm, practical and open dialogue. A house divided cannot stand, and Georgians must show the nation that we can unite for the greater good," Jones said.
Commission members, Jones said, would reflect and represent a broad spectrum of interest on the subject, and would include, but not be limited to, preservationists, historians and advocacy groups.
At least 60 public Confederate monuments have been removed or renamed since the 2015 massacre of nine black parishioners in a Charleston, South Carolina, church by a self-described white supremacist, according to the Southern Poverty Law Center. In May, workers in New Orleans removed a statue of Confederate President Jefferson Davis as part of a contentious plan to dismantle four Confederate landmarks in the city.