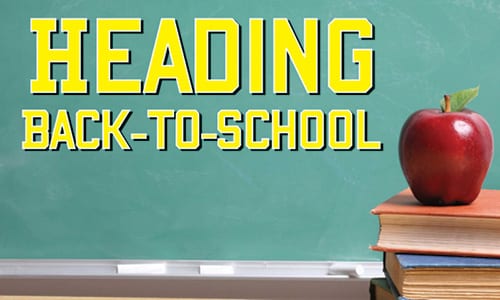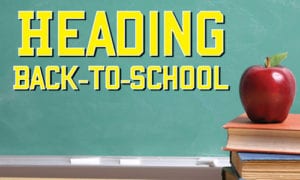 The Back-to-School events were compiled by Staff writer Mackenzie N. Morgan
Online registration for new DeKalb County students now underway
Families who are new to the DeKalb County School District (DCSD) can now access the district's online registration system. 
The online registration, launched July 9, is for new students only. 
Parents of returning students should contact their student's school for information. They will have the school supply lists.
The first day of school for DeKalb students is Aug. 6.    
Parents or guardians can visit www.dekalbschoolsga.org/registration and navigate through a series of prompts to enter the vital information needed to ensure accurate school assignments and support services for their student. The new student online registration process takes approximately 20-30 minutes.
Through online registration, parents can register multiple students all at one time. This process will eliminate the multiple paper documents historically required for registration. The OLR tool will provide the convenience of entering information and attaching documents with the ability to save the work for a later com
 "Modern times require modern solutions. The online registration system increases our ability to provide the first-class service that leads to a very important end – ensuring students are in school and ready to learn on day one," said Superintendent R. Stephen Green.
Online registration requires:
Parent/Guardianship
Proof of residence in the DeKalb County School District – a current utility bill (gas, water, electric) or rent/lease agreement (or mortgage) in the parents' name, or an affidavit will be needed.
Certified copy of birth certificate, Passport, or I-94
Immunization Certificate form 3231
Hearing, Vision, and Dental form 3300
Social Security card (you may complete a waiver)
School transcripts (if applicable)
For parents who are unable to access the internet, DCSD will have two regional registration sites for their new students to enroll: McNair High School and East DeKalb Center (EDC).
For more information, contact DCSD Student Support Services at 678-676-0035 or visit www.dekalbschoolsga.org. 
Introducing School Café
The DeKalb School District is now accepting online applications for the breakfast and lunch programs for the 2018-2019 school year via School Café. This website can be used to apply for free and reduced meal benefits and receive instant notification of status. Parents can also use School Café to make meal pre-payments. To register, visit www.schoolcafe.com. 
Open House dates set for 
DeKalb County schools
The open house dates for all DeKalb County elementary, middle, and high schools have been set for the 2018-2019 school year. The open house dates for parents and students are as follows:  
 Wednesday, Aug. 1
• 2:00-4:00 p.m. Elementary Schools
• 4:30-6:30 p.m. Middle Schools
 Thursday, Aug. 2
• 2:00-4:00 p.m. High Schools (9th Graders and New Students)
• 4:30-6:30 p.m. High Schools (Returning Students)
Back to School Rally For Mental Wellness
Join the DeKalb County School District to learn about the importance of mental wellness at the Back to School Rally for Mental Wellness on Thursday, July 27, 3 to 6 p.m., at the Administrative Instructional Complex, 1701 Mountain Industrial Blvd, Stone Mountain. 
Organizers say that mental wellness is vital to student achievement and academic performance and that they plan to provide a multitude of resources to addresses concerns including anxiety, hyperactivity, attendance, bullying, social skills, trauma, moodiness, suicide prevention, self-esteem and healthy ways of coping with stress. 
Free backpacks available while supplies last. Parents must attend one workshop to be eligible for their child to receive a free backpack. For more information, visit dekalbschoolsga.org. 
DCSD Back-To-School events
The DeKalb County School District (DCSD) will host four Back-to-School events on Aug. 4. 
Knock, Walk and Talk will take place from 11 a.m. – 12:30 p.m. DeKalb Schools Superintendent R. Stephen Green will visit neighborhoods in the district, knock on doors and meet families. 
Back-to-school rallies will take place from 12 to 4 p.m. at the following locations:
Exchange Park, 2771 Columbia Drive, Decatur
Center for Pan Asian Community Services, 3510 Shallowford Road, Atlanta
Robert R. Freeman Administrative & Instructional Complex, 1701 Mountain   
Industrial Blvd.
The Bridge at Austin Drive to host bash
The Bridge at Austin Drive, 1989 Austin Drive, Decatur, is hosting its Back-to-School bash on July 21, 11 a.m. to 1:30 p.m. There will be free bookbags, school supplies, as well as health screenings, exhibits and other resources for DeKalb County families. 
Every year, The Bridge partners with local businesses and other organizations to give our DeKalb County students a boost as they prepare to return to school.  
Haven Fellowship Church in Rockdale sets cookout
The community is invited to attend a neighborhood cookout and Back-To-School Bash on Saturday, July 21, 5:30 p.m., at Haven Fellowship Church, 2240 Smyrna Road, Conyers. Rockdale students return to school on July 30.  
The festival will include family fun, food and games along with distribution of school supplies to families in the community. 
The event is free and open to the public. School supply donations are being accepted now through the day of the event. 
For more information, contact Michael P. Howington at mhowington@windstream.net or call 404-983-2994.  www.havenfellowship.org. 
MPPA to host Back To School Jam

 

in Rockdale
Ms. Pam's Precious Angels (MPPA) Family Childcare Center will host a Back To School Jam and daycare center tour on July 28, 1 to 4 p.m., 2125 Old Salem Road, Conyers. There will be book bag giveaways, music, food and more.