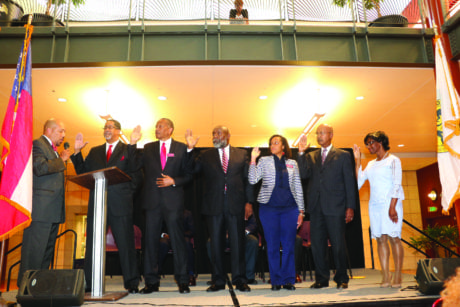 The first elected officials of Stonecrest, a new city of 50,000 residents in Southeast DeKalb County, took their oaths of office on May 1, giving birth to the municipality's first government. A cheering crowd witnessed the historic event, which was held at the Mall at Stonecrest on the ground level near the Sears department store.
Mayor Jason Lary and the five City Council members—Jimmy Clanton (District 1), Rob Turner (District 2), Jazzmin Cobble (District 3), George Turner (District 4) and Diane Daniels Adoma (District 5)—were administered the oaths of office by DeKalb Judge Ronald Ramsey.
There were so many who attended the 7 p.m. celebration, which was coordinated by Council member Jazzmin Cobble, that some watched the ceremonies from the second floor above the stage and audience on the ground floor.
Joel Thibodeaux, chair of the Stonecrest Governor's Commission, which was appointed to oversee the transition of the new government, welcomed the crowd, telling them the historic day had finally arrived.
"It's been four years of planning, hard work, development, sleepless nights and trips down to the state capitol, community meetings, forums, an election, a runoff and now, we're finally here: The city of Stonecrest is born today!" Thibodeaux exclaimed.
The Miller Grove High School ROTC presented the colors and the Pledge of Allegiance was recited following the welcome.
Thibodeaux and the Stonecrest officials were joined on stage by New Birth Missionary Baptist Church's pastor, Bishop Stephen A. Davis, who gave the invocation, and DeKalb CEO Michael Thurmond, who made remarks after the swearing-in ceremony.
Mayor Lary thanked supporters for voting to incorporate the city, his wife, Debra, and the spouses of the council members, who sacrificed four years of enduring long hours of work to get the referendum for incorporation passed last year. Mayor Lary also thanked and honored the appointed governor's commission, comprised of chair Joel Thibedeaux, Markus Butts, Michelle Emmanuel, Jim Burgess and Shawn Jones. Lary commended the Stonecrest Community Committee chairs as well for helping set up the new city's structure: Vaughn Irons (co—chair of Economic Development); Michelle Emanuel (chair of Code Enforcement and Beautification); Mera Cardenas (chair of Parks and Recreation); Patrick Ejike (chair of Planning and Zoning); Dr. Barbara Lee (chair of Education); Michael Williams (chair of Public Safety); and Shawn Jones (chair of City Operations).
The other community committee members included Karyl Clayton (vice chair); Lori Brown; LaTasha Lewis; Dr. Nancy J. Williams-Oharume; Gloria Leslie; Lenise Bostic; Olivia McDonald-McKenzie; Jacqueline Swain; and Sheldon Flemming.
Several dignitaries attended the inauguration including three members of the new city of South Fulton, whom Lary acknowledged during the program.
This Is It restaurant catered the reception following the program.