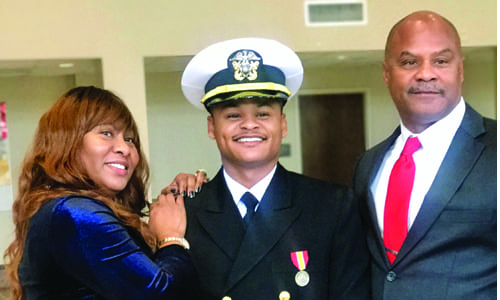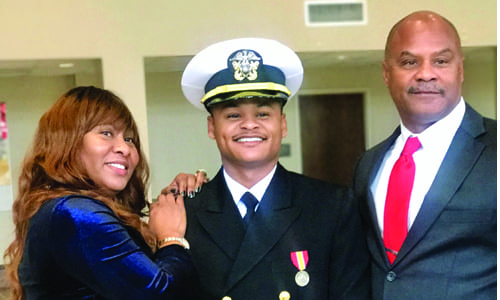 By Mackenzie N. Morgan
Former DeKalb County student Connor Owens' career as a Navy pilot is finally taking flight this month. Owens' accomplishment as a first-generation pilot comes during the national celebration of Black History Month. After years of training and dedication, the 23-year-old was commissioned into The United States Navy on December 15 as a Naval Aviator and reported for duty on Thursday, Feb. 8 in Pensacola, Florida to continue rigorous flight training for the military.
"I'm definitely excited and looking forward to starting pilot training. I've been dreaming about this moment for a very long time and it's still surreal to know that I am doing something I've been dreaming to do my entire life," said Owens who took his first assisted flight at fourteen.
Owens' mother, Sandra Owens, who lives in Lithonia, said she is extremely proud of her son.
"I'm very proud because he's remained focused and kept his eye on the prize. He has not been sidetracked by anything. His whole focus was becoming an aviator for the Navy. I'm just proud that he reached his goal," said Owens.
Owens said her son's fascination with airplanes began when he was just four years old and that both his grandfathers, the late Thomas Calvin Owens II (paternal) of Johnson, South Carolina and the late Lemmie J. Smith (maternal) of Dothan, Alabama were both in the military.
"He built his own model airplanes with anything he could find from wood to Legos," said Owens, who lives in Lithonia.
When Owens began to display an interest in aviation early in his childhood, his mother began searching for opportunities to feed his growing curiosity in planes. This led them to the Aviation Career Enrichment (ACE) program. Founded by CEO Julius Alexander, ACE provides youth with flight training and exposure to major airline pilots for kids interested in pursuing aviation careers. Under Alexander's mentorship, Owens conducted his first solo flight at age 16 and landed his Private Pilot license on his 17th birthday with the help of his mentor Mike Gaillard, a Delta pilot and ACE volunteer.
Through the DeKalb County School District, Owens joined the Junior Reserve Officers' Training Corps (JROTC) program while attending Dunwoody High School and later transferred to Arabia Mountain High School where he graduated in 2012. Owens attended Tuskegee University on a full ROTC scholarship where he earned a Bachelor of Science Degree in Mechanical Engineering.  While attending Tuskegee University, Owens worked part time at the local airport while expanding his knowledge of aircrafts. Owens was a participant in several aviation programs including the Organization of Black Aerospace Pilots (OBAP), Flight Line Academy, Black Pilot of America (BPA), Civil Air Patrol, and The United States Naval Academy Summer Seminar program.
Throughout his endeavors, Owens said that he remained focused on his dream of becoming a Naval Aviator and that his message to any person wanting to realize their dream is to "work hard, stay focused and dedicated and your reward will come."
Outside of aviation, Owens was a participant of Breakthrough Atlanta and a member of Berean Christian Church.  Owens' hobbies include swimming, fishing, flying, and being a positive role model for his 15-year-old sister, Alexandra Sinclair, who also attends Arabia Mountain High School.