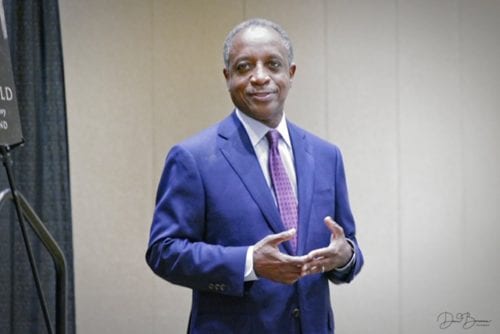 DeKalb County Board of Commissioners received a recommendation on Nov. 19 to enter into a five-year contract with American Medical Response, an emergency ambulance service provider.
After conducting a national search and eight-month review, the internal evaluation committee, comprised of representatives from the DeKalb County Fire Rescue Department, E-911, DeKalb Medical Examiner's Office and the CEO's office, found American Medical Response to be the highest-scoring proposer.
"DeKalb is building an innovative countywide ambulance transport service system that prioritizes the lives and safety of our citizens," said DeKalb County CEO Michael Thurmond. "The emergency ambulance service provider recommendation is the product of public feedback, detailed evaluation, numerous meetings and discussions."
After learning of complaints about slow ambulance response times, Thurmond initiated a comprehensive review of DeKalb's emergency medical response system. Following months of analysis, the county concluded that the root cause of the longstanding problem was ineffective management of the county's poorly constructed 2013 emergency medical response contract.
Set to expire in December 2018, the contract was extended through December 2019 allowing the county time to evaluate the responses to the emergency medical response request for proposals.
In January 2019, DeKalb implemented the First-on-the-Scene Model of Care, a dual emergency response system that prioritizes the initiation of immediate lifesaving care.
DeKalb's fully-integrated model of care is designed to ensure that trained para-medical personnel and equipment are on the scene as quickly as possible. The strategy utilizes medically-trained fire/rescue personnel who work in concert with the county's emergency response vendor.
All DeKalb County Fire Rescue firefighters are licensed emergency medical technicians and can perform basic lifesaving services. Additionally, 14 percent of DeKalb firefighters are licensed paramedics and can perform the same advanced lifesaving services offered by a contracted ambulance service provider.
In July 2019, a subcommittee from the State of Georgia Office of Emergency Medical Services was tasked with reviewing the county's ambulance transport system. The subcommittee acknowledged significant improvements to DeKalb's countywide emergency services that included:
Enforcing $1.9 million in noncompliance penalties that included $590,000 in cash and in-kind services such as including increased staffing.
Executing a memorandum of understanding with the City of Dunwoody to improve countywide emergency ambulance service. The agreement included stationing four additional ambulances to serve DeKalb's northern corridor.
Appropriating $1.3 million to purchase seven new ambulances to improve countywide response times.
Appropriating $2.2 million in special purpose local option sales tax (SPLOST) revenue to purchase 10 state-of-the-art rapid response vehicles, increasing the department's ability to initiate lifesaving care and stabilize patients. Five vehicles are currently in service.
Appropriating $339,210 to fund 20 new Fire Rescue paramedic positions in the FY2019 budget.
Appropriating approximately $32 million to construct five new fire stations in the south west section of DeKalb County.
Partnering with the City of Brookhaven to build a new northern corridor ambulance substation.