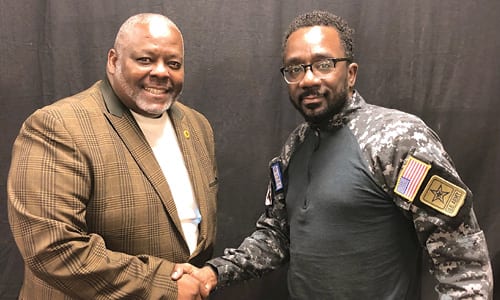 The Veterans Home & Business Services is seeking to hire dozens of veterans in the metro Atlanta area as entry level and skilled technicians. 
The jobs range from installing light fixtures, home theatres and appliances to skilled electricians, security system, water heaters and garage door installers, to carpenters, painters and plumbers. The pay ranges from $15 to $30 an hour. Both, part-time and full-time positions, are available, said David Gallemore, president of Veterans Home and Business Services. 
"We're looking to hire 50 to 150 veterans, active and retired," said Gallemore. "With the holiday season approaching, we're anticipating a demand for technicians."
Amos King, who is serving as the veterans' coordinator, said applicants must interview and have transportation. King, who heads Justice For Veterans, has been on the frontlines of assisting veterans and fighting for those who have been wrongfully killed by police.   
"We want to make placements immediately. The work includes residential and commercial," said King. "I'm excited about the opportunity to help veterans. A lot of them need jobs and this is a way to put them to work."
Training will be provided for those who need to brush up on customer skills, Gallemore said.  
Gallemore said veterans would be given priority for the jobs and then others such as public safety workers would be used to fill positions that are not filled by qualified veterans.
For more information, contact Amos King at 678-698-8753.