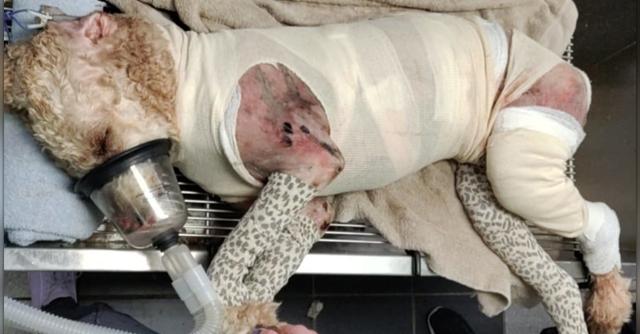 DEKALB COUTY, GA— There has been an outpouring of support and prayers, as well as offers to adopt the Labradoodle that was set on fire on Sunday, Dec. 5, in Decatur, rescue workers say. Police are still seeking the person(s) who set the dog on fire and Crime Stoppers Greater Atlanta is offering a reward up to $7,000 in the case.  
Witnesses saw the dog running on Lindsey Drive in Decatur while "engulfed in flames" and were able to put the fire out, DeKalb County Police said. The dog was hospitalized and listed in critical condition. 
Dog Days Rescue said in a Dec. 12 Facebook post the dog, which rescue workers have named "Will," remains hospitalized with a partner veterinarian but is recovering.  
"Will continues to be in good spirits, happy and obviously loves all of the love he's being showered with! His eyes are looking much better today and his nose is healing well. The rest of his body still has quite a ways to go but he's being a trooper!
Thank you for the continued love and support that is being shown to this sweet boy!" Dog Days Rescue said in its most recent Facebook post.
Dog Days said more than 100 people have asked to adopt Will.  
"We've received over 100 messages and emails about adopting Will. We are nowhere near that step in his journey yet. We don't know his personality, if he'll have long term special needs or even his energy level. Please, be patient. When the time comes, we will post here with an application link. The vet staff also has nothing to do with that part of the process," the administrator of the nonprofit said in a post dated Dec. 10.   
Dog Days has started a fundraiser for Will's recovery. The nonprofit is warning the public to beware of scammers who are trying to benefit from the dog's misfortune with solicitations for money.
"Due to the APPALING number of scammers trying to take advantage of Will's terrible situation, I've created a Fundrazr.
PLEASE DO NOT DONATE TO ANYONE WHO MESSAGES YOU OR TO ANY FUNDRAISER NOT POSTED TO THIS PAGE.
This Fundrazr will be THE ONLY fundraiser we will post. Any others are not legitimate.
https://fnd.us/b1vWw5?ref=sh_61lRS2."
Anyone who has information about the case should contact DeKalb County Police Detective Watson at 404-286-7990 or Crime Stoppers Greater Atlanta at 404-577-TIPS. 
People for the Ethical Treatment of Animals (PETA) is offering a reward of up to $7,000 for information leading to the arrest and conviction of the person(s) responsible for setting Will on fire.