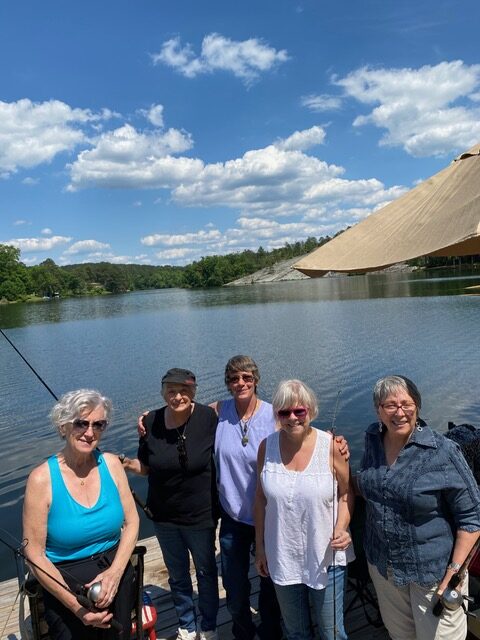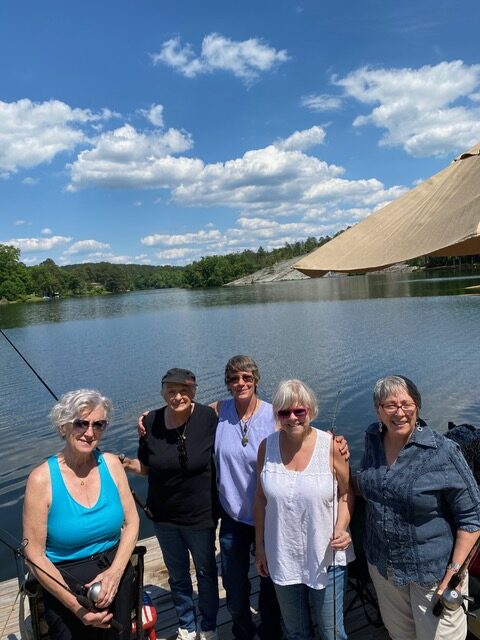 STONE MOUNTAIN, GA–They began during the height of the COVID pandemic—all retired women who began fishing together at a beautiful, private lake. Over a year later, the Stone Mountain Hookers, the name they adopted, are still having fun, fishing regularly, and all the while learning the important basics of angling.  
Baiting a hook? It can be daunting.  What do you do when you have a tug on your line? When a fighting fish is reeled to the surface, what then? And, there's the dreaded cleaning a fish, a necessary step leading to a delicious meal. 
Donna Bostick, a full-fledged Georgia Girl if there ever was one, is retired from AT&T. She's also an experienced angler who will bait a hook for those who are a little skittish and she is a wizard at cleaning fish.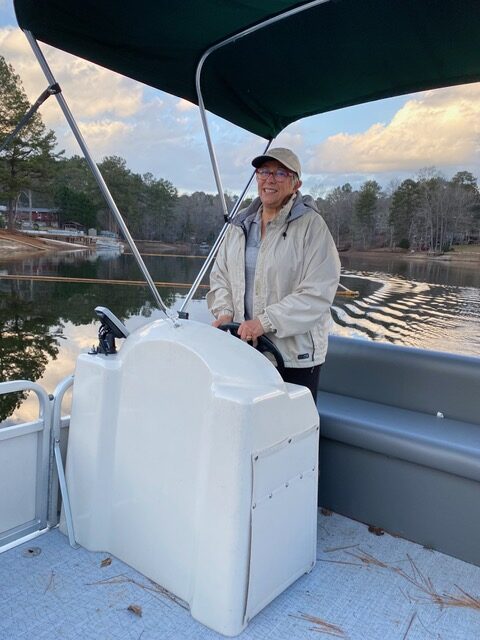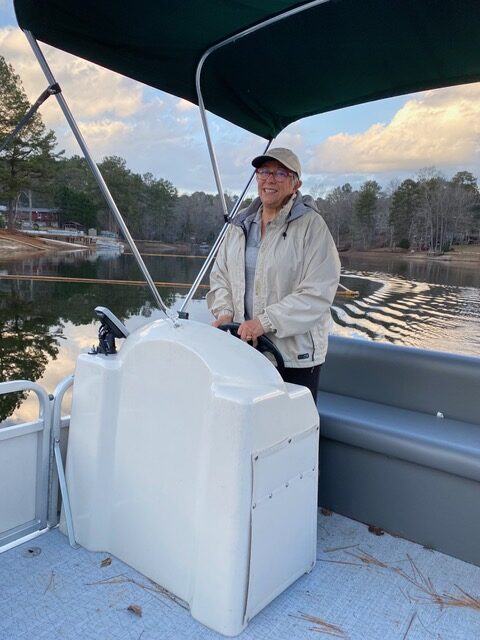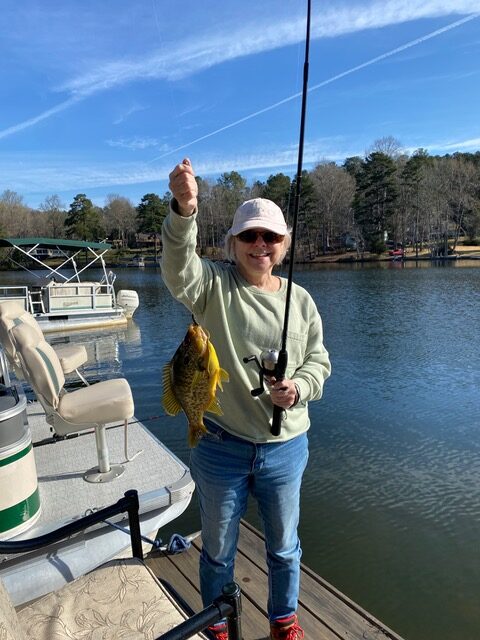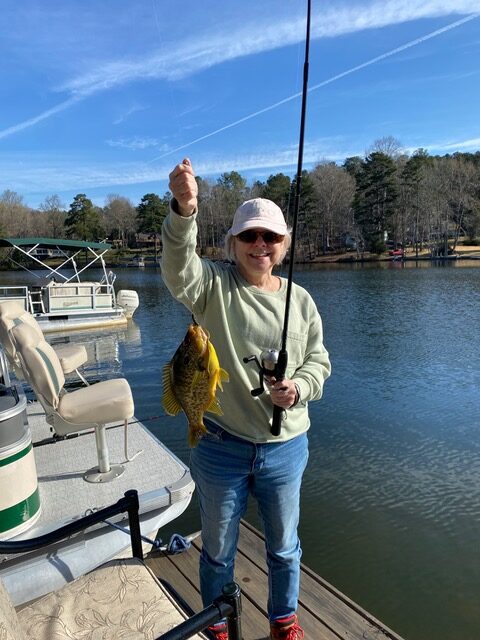 "Donna is very popular," said Stone Mountain folk artist and children's book author Olivia Thomason, one of the members who has enjoyed fishing since childhood days in North Carolina. "She can do it all." 
The Hookers fish from Pat Sabatelle's back yard dock on a private lake in Rockdale County. Sometimes, they take a break and enjoy. Sabatelle's pontoon boat.
 "Hot coffee, pastries and snacks are always nearby," said Sabatelle. "We've done well with our catches, enjoying great lunches with fresh fish as main course."
After retiring as a top executive with renowned the Grizzard Agency, Sabatelle enjoys traveling to faraway places regularly with husband, Michael.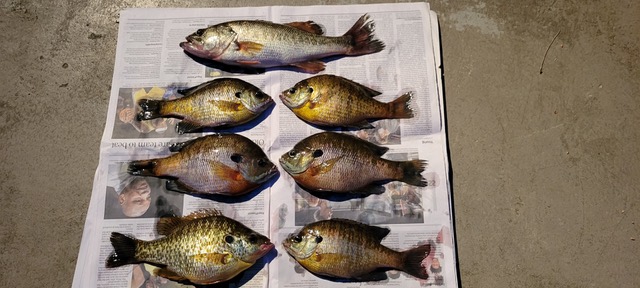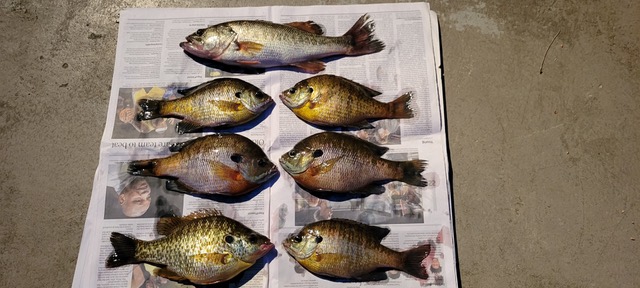 The club members all agree that Pat Sabatelle is not only a gracious host and accomplished gourmet cook, but also generous in opening her home and lake to them. 
 "Pat makes everything happen," said Rebecca Carlisle, another stalwart member who retired from the City College of Charleston. 
Betty Pompey, a Stone Mountain community leader who retired as an executive with the U.S. Postal Service, said she had some fishing experience while living in Savanah.  
"I showed up with large surf-fishing lures and a big, heavy-duty rod, prompting some laughter," said Pompey. 
Now others in the club have rods, reels, line and hooks suitable for local lake fishing for the Bream, Bass, Crappie and Catfish. 
Shelia Hortman, now living in Stone Mountain after a career in travel and tourism, has lived in Alaska and Wisconsin.  
"Our fishing, cooking, eating and laughter works magic," Hortman said, adding that "the spiritual benefits from our friendship are blessings.
The highly-respected outdoor sports journalist and fishing expert Polly Dean applauded the Stone Mountain Hookers.  
"The ladies are having fun, and that is all you need," Dean said. She added that "there are immeasurable healing powers of fresh air, sunshine and Nature's beauty. It doesn't matter how good you are."  
The Stone Mountain Hookers have no charter, rules or dues. They sometimes meet for lunch or dinner away from the lake, in either a member's home or a local restaurant. But, almost spontaneously, they return to the gentle waters, pour some hot coffee and start casting, waiting for the dramatic stir in the water, that first catch of the day. 
Story written by Doc Lawrence. For more information, email: Doc Lawrence, doclawrence@mindspring.com;