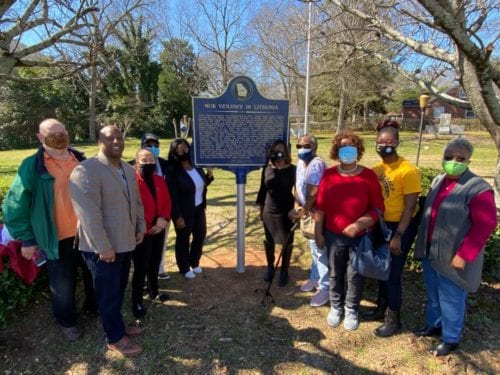 The National Association for the Advancement of Colored People (NAACP) DeKalb County Branch Remembrance Project will install its third lynching marker on Thursday, May 6, at noon in the Druid Hills community.
The location of the marker will be at the Oak Grove Park in the Olmsted Linear Park, which is located at the southeast corner of Ponce de Leon Avenue.
For those who plan to attend, parking is available on South Ponce de Leon in the unreserved spaces at St. John's Lutheran Church.
"This project has become a personal project for educating our community on some major historical facts during these troubling times of health, economics and democracy crisis," said DeKalb NAACP President Teresa Hardy.
The Community Commemorative Project has documented 592 lynchings across America,  four of them in DeKalb County.
The first marker, commemorating Reuben Hudson, was erected in front of the DeKalb County Courthouse in Decatur on May 14, 2020.
On Feb. 24, 2021, the DeKalb NAACP unveiled the second historical marker at Kelly Park, located in the heart of the City of Lithonia.  The Lithonia marker commemorates the lynchings of three black men that took place in Lithonia as well as other places throughout America after Reconstruction was abandoned in 1877. Following the Civil War, white mobs, in resistance to rights mandated for African Americans freed from slavery, terrorized and lynched thousands of blacks between 1877 and 1950 across America.
The Druid Hills marker, which will be DeKalb's third lynching marker, will commemorate Porter Turner, a taxi driver who was killed on Aug. 21, 1945 by the Ku Klux Klan.
"We are not done yet," said DeKalb's Remembrance Project Chair Attorney D.E. Smith.  "We still have to collect soil for the Lithonia victims and host a dedication ceremony when it is safe to do so."
Those who are interested in participating in memorializing and honoring victims of lynching may email info@naacpdekalb.org.
For more information, contact Remembrance Project Chair, Attorney D.E. Smth at 404-241-8006 or visit www.naacpdekalb.org.