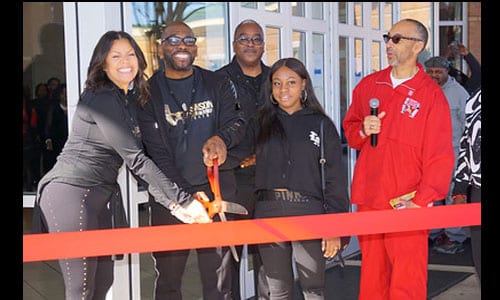 New Birth Missionary Baptist Church, 6400 Woodrow Road, Stonecrest,  held a ribbon-cutting ceremony for the re-grand opening of its  Samson Health & Fitness Center on Jan. 12. Dr. Jamal Bryant, New Birth's senior pastor, led the ceremonies.
The state-of-the-art fitness facility features 80,000 feet of workspaces featuring four full basketball courts, speed and agility areas, weight room, cardio area, group class space and snack bar.
This month, Bryant is focusing his weekly sermons and online messages on topics of health and wellness.
"We are in a serious health crisis across America where far too often we find African American's leading in those staggering health statistics mainly due to a lack of information and access quality healthcare. These health disparities are real and disproportionately affect our communities," said Dr. Bryant. "New Birth is committed to not only brining awareness about these issues but also providing a path to help address some of these preventable and manageable health challenges."
There is no signup fee to become a member of Samson Health & Fitness Center. Individual monthly plans starting at just $15 for adults, $45 for a family membership and $10 for youth and seniors over 62 years old.
Hours of Operations
Monday – Friday: 5 a.m. – noon and 4 p.m. – 9 p.m.
Saturday: 7 a.m. until noon
Sunday: closed