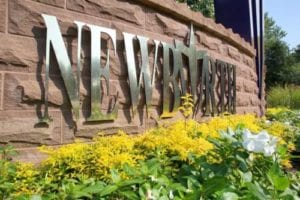 STONECREST, GA–New Birth Missionary Baptist Church will welcome parishioners and guests for two virtual Watch Night services on Dec. 31, with the first beginning at noon and the second, which will feature contemporary gospel group Mary Mary, starting at 10:30 p.m. The services will stream live on WeAreNewBirth.org and New Birth's YouTube channel.
With the spike in COVID-19 cases, New Birth cancelled plans to host the service inside its main sanctuary, which has not opened since early 2020.
"Despite our best efforts to create a safe worship experience to usher in a new year, we are obligated to evaluate the facts and change course to keep our members, guests and visitors safe," said New Birth's Senior Pastor, Jamal Bryant. "I'm beyond blessed to announce that award-winning recording artists Mary Mary will be joining us during our 10:30 p.m. service. This is one Watch Night experience you don't want to miss."
Additionally, New Birth is partnering with area healthcare providers to host drive-thru COVID-19 rapid tests on Dec.  31, 9 a.m. until 10:30 p.m., in the church's parking lot.
"We know everyone is eager to return to a sense of normalcy after nearly two years of navigating this pandemic, and we have been extremely cautious and mindful to consider new processes and procedures that include a hybrid approach to ministry that provides a safe worship experience at New Birth," said Pastor Bryant, who has seen an enormous surge in online viewership and membership throughout the COVID-19 crisis. "The pandemic has redefined how we do ministry and this reimagined approach has forced us all to innovate in a way that has enabled us to touch more lives and work outside the four walls of the church."
To register for the free rapid COVID-19 test and complete the required intake forms, text TESTME to 474747. For more information, visit WeAreNewBirth.org. 
Free COVID-19 Rapid Test Availability:
Dec. 31, 9 a.m. – 10:30 p.m., in the church parking lot
6400 Woodrow Road, Stonecrest, GA
Location: New Birth Missionary Baptist Church campus (directional signage onsite), 6400 Woodrow Rd., Stonecrest