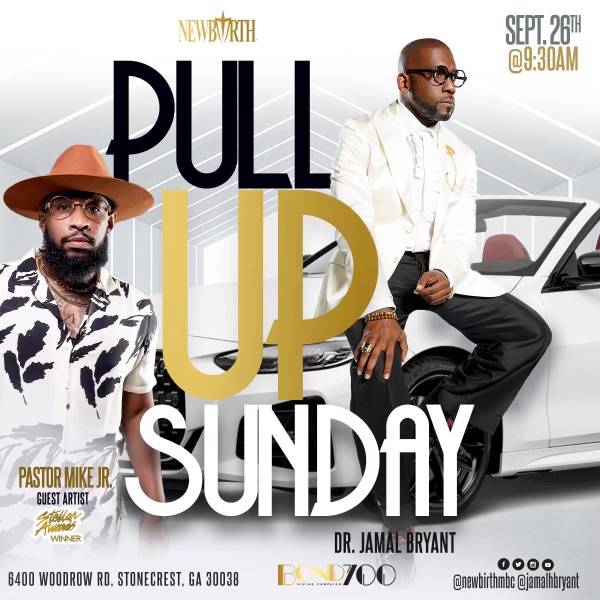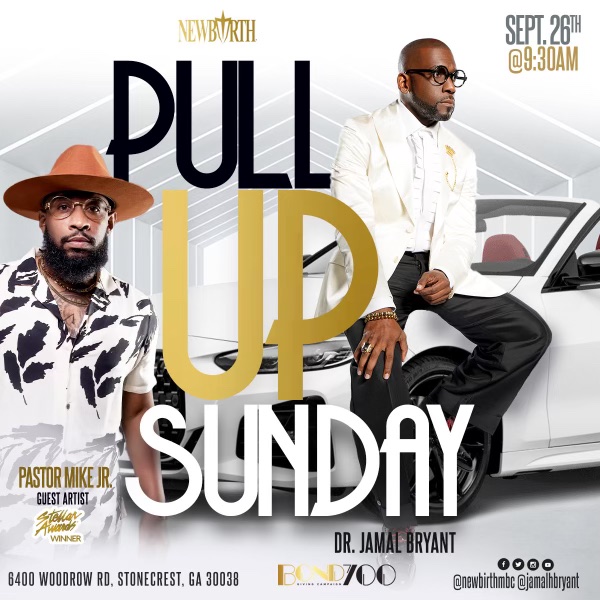 STONECREST, GA–New Birth Missionary Baptist Church will host a second pull-up worship service on Sunday, Sept. 26, 9:30 a.m. in the parking lot of the ministry's campus located at 6400 Woodrow Road in Stonecrest. The outdoor worship service will feature Stellar Award-winning artist Pastor Mike Jr. with a special appearance from Praise 102.5's Darlene McCoy.
Earlier this year, Senior Pastor Jamal Bryant pivoted the church's initial reopening plans and shifted efforts to periodic in-person parking lot experiences in addition to ongoing online services. The drive-in theatre-style celebration will allow attendees to gather outside with options to remain in their vehicles or social distance in various open areas across the vast parking lot.
"We made a deliberate shift in our reopening plans that initially included returning to limited in-person services," said Bryant. "The sobering reality is that there are still so many people who need access to the vaccine. As we continue to monitor the COVID-19 crisis, we will continue to work outside the four walls of the church to provide ongoing opportunities for vaccinations."
During the pull-up service, families and visitors will be able to worship from their parked vehicles or in a designated open area outside of the main stage. A number of local food trucks and vendors l also will be on site for this event.
"This outdoor worship experience will provide our members an opportunity to gather and remain safe in the process," said Bryant. "We are beyond thrilled to welcome Pastor Mike Jr. to New Birth and invite the entire community to join us for another special pull-up service experience."
For more information, visit wearenewbirth.org.
Outside Service Includes Voter Registration Drive, Local Food Trucks