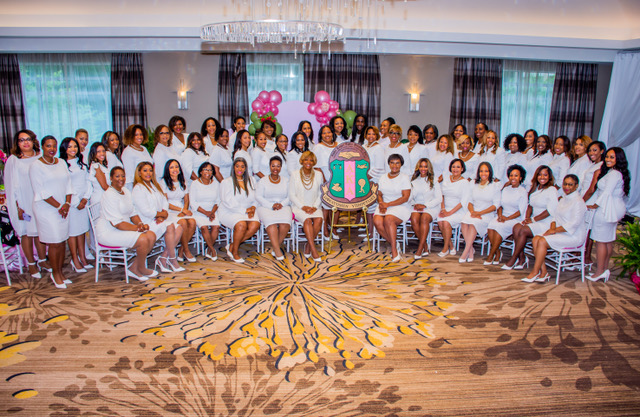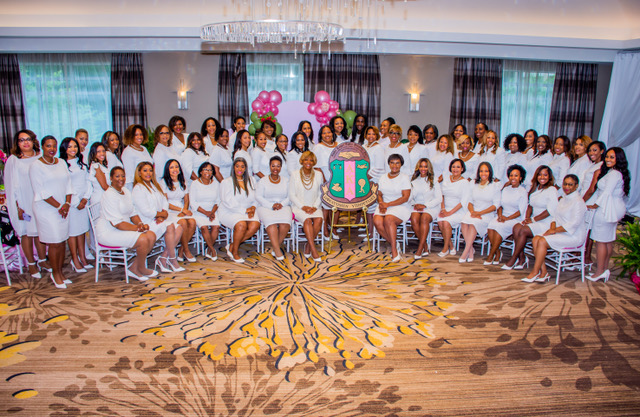 BROOKHAVEN, GA–Alpha Kappa Alpha Sorority, Inc. welcomed one of its newest chapters, Alpha Beta Lambda Omega, to the North DeKalb County area on May 15. The chartering ceremony and luncheon were held at the Hyatt Regency Villa Christina in Brookhaven and officiated by Carolyn Gause Randolph, South Atlantic Regional Director.
Phyllis Mitchell will serve as chapter president and lead its 57 members in its mission of providing service in the North DeKalb County communities of Brookhaven, Chamblee, Doraville, and Dunwoody. The mayors of all four cities, as well as other community leaders from across DeKalb County, supported the formation of the new chapter of from its early beginnings.
"We are excited about the opportunity to expand the footprint of Alpha Kappa Alpha Sorority, Incorporated into the North DeKalb community," said Mitchell. "The need within the community is great, and we look forward to partnering and collaborating with our elected officials and community leaders on satisfying unmet needs."
During its journey, the group:
Supported the 2022 Lynwood Park Community Day as volunteers, ambassadors, and community resources.
Partnered with the North DeKalb Senior Center for a drive-through distribution of lunch and personal protective equipment supplies to seniors.
Provided Thanksgiving baskets and personal care kits to students and their families at John Lewis Elementary School.
Contributed over 1000 pairs of shoes to the Soles4Souls non-profit organization and
recycled eyeglasses for the DeKalb Lions Club.
Spotlighted and promoted Black-owned businesses located within the North  DeKalb community.
Participated in walks in support of Historically Black Colleges and Universities and the Susan
G. Komen "More Than PINK Walk".
Hosted webinars to bring awareness to mental health and to improve financial literacy.
Joined with the Georgia Council for the Arts and with the Youth Ensemble of Atlanta to host
arts-related activities for youths, including a themed musical, Harlem Renaissance: A Celebration of Culture and Creativity.
All community service programs were in alignment with the Alpha Kappa Alpha Sorority, Incorporated international platform of "Exemplifying Excellence Through Sustainable Service."