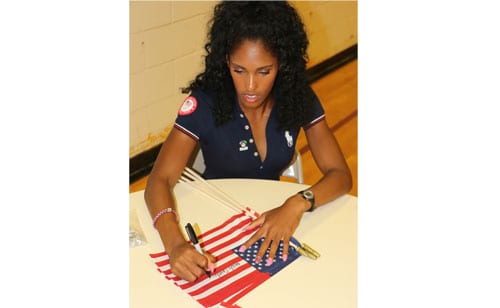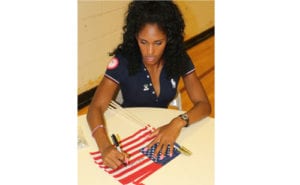 Kristi Castlin, a 2016 track-and-field Olympian, spoke with youths on July 25 at the Hamilton Recreation Center about gun violence and fulfilling their dreams.
Castlin, who is dedicating her Olympic bid in Rio to survivors of gun violence, is a victim of gun violence. When she was 13 years old, her father, who worked as the night manager at a Cobb County hotel, was shot and killed for $300 during a robbery. The case went unsolved for 15 years until a man was convicted in March 2016 for the murder.
Castlin also experienced gun violence again as a freshman at Virginia Tech when a lone gunman killed 32 people and wounded 17 at the college.
The Atlanta native holds a state record time in the 100-meter hurdles, graduated in the top five percent of her high school class with a 4.0 GPA and received a full scholarship to Virginia Tech, where she graduated with honors and a degree in political science.