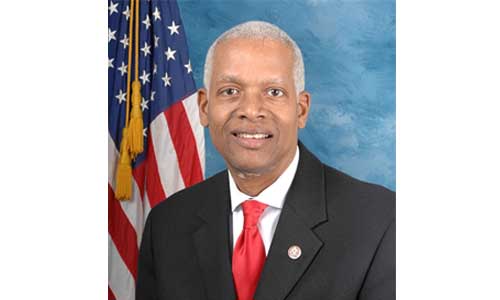 By Congressman Hank Johnson (GA-04)
Donald Trump is a corrupt, misogynistic, xenophobic, homophobic, race-baiting narcissist whose incompetence has led to the deaths of almost 180,000 Americans, and whose corruption is almost unfathomable.
This is why he must be voted out of office 
on November 3rd
, and Joe Biden and Kamala Harris are poised to lead us from the darkness of the Trump presidency.
Every public servant has haters, and Joe Biden certainly has his share. Some accuse Joe of being a racist because of statements that he has made over his 46 years of public service. Joe should not be faulted for speaking his mind and being a straight shooter. 
It's easy to condemn remarks without considering the context within which the remarks are made, so the best way to judge a person is to look at what that person has done over the course of their life, rather than what someone says that person said. 
On a personal level, Joe's record shows that he has always been an honest, kind, decent and caring person. His record of service is at polar opposites to that of Donald Trump, who has a history of lying, cheating, ripping people off and self-service. Trump's record shows that he cares only about himself. But don't take it just from me. Ask Trump's oldest sister about him, and she will tell you the same thing! 
Over 46 years of public service, I'm sure there are some things that he has said, and votes that Joe has taken, that he wishes he could take back. But there is nothing in Joe's past that proves he is a racist.
Is there anyone who honestly believes that our nation's first Black President Barack Obama would name a racist to be his Vice President? And would Joe name as his Vice-Presidential running mate Sen. Kamala Harris, a Black woman, if he was a racist? We all have made mistakes, and I believe Joe has learned lessons from his past and is a wiser leader and a better person because of it. Contrast Joe's evolution to Donald Trump, who never has to apologize because he is always right and doesn't make mistakes. 
Joe made history as being one of the greatest and most consequential Vice Presidents to ever serve this nation. And as our next President, Joe is poised to see his running mate, a Black woman, accomplish that same feat. 
Together they will rescue our country from the clutches of the most racist President since Woodrow Wilson. Together they will cleanse corruption, crony capitalism and racism from the White House. Together they will defeat Covid-19 with a national strategy so that schools can re-open safely and Americans can get back to work and play as before.
And together, with dignity and fairness, they will lead the restoration of our Democracy so that every person in our great nation can enjoy equal rights and a level economic playing field, along with the blessings of liberty as guaranteed by the Constitution. 
Now serving in his seventh term, Rep. Johnson is a senior member of the Judiciary Committee and Transportation & Infrastructure Committee. He is chairman of the subcommittee on Courts, Intellectual Property & the Internet, and he is Secretary of the Congressional Black Caucus.