STONECREST—Residents got their first look on Monday night (Nov. 1) at plans for a Serenbe-inspired, mix-used community proposed for a 657.3-acre tract of lush woodlands along the South River in DeKalb and Rockdale counties.
Auto dealership owner Maxie Price, who owns the land, has hired Attorney Michele Battle of Battle Law, P.C. to help him create the new community along the South River at 7333 Browns Mill Road. Battle and representatives of the Atlanta-based design firm, Tunnell, Spangler & Associates, Inc. (TSW), unveiled conceptual plans during the community Zoom meeting.
The vision for "South River" resembles Serenbe, a 1,000-acre community in Chattahoochee Hills, Georgia, located about 30 miles southwest of Atlanta. Serenbe is set among preserved forests and meadows with miles of nature trails connecting homes with restaurants, the arts and businesses. The community is an example of New Urbanism focused on walkable blocks and streets, greenspaces, town centers and housing and shopping within close proximity. Alpharetta, Georgia's walkable Avalon community, which touts itself as a "new experience in the timeless art of living well," is another example of the close integration of homes, retail, shopping, and outdoor open spaces that Battle and TSW want to bring to the proposed South River  community.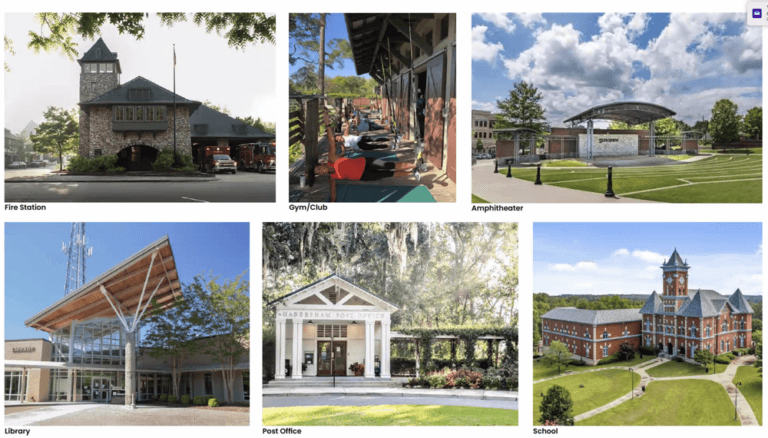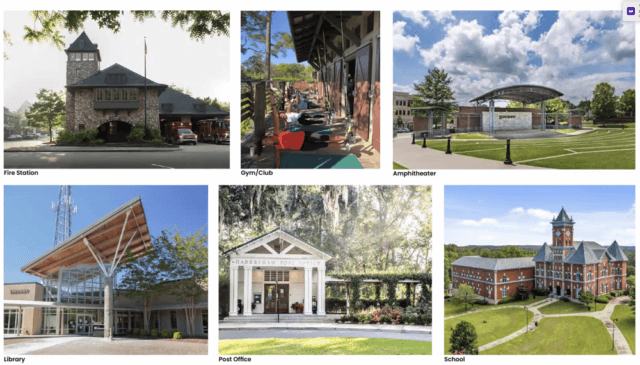 Battle said that the property has been held privately for decades. She said she got involved in helping to create the vision to transform the tract after she and Price initially pitched a subdivision that apparently didn't have much of a "wow" factor for the two elected officials who heard the pitch. Battle said she and her team's visit to Serenbe inspired a greater vision.
Battle said she believes the environmentally-focused, mixed-use South River project could be the first predominately African-American community of its kind in the nation.
"I think that it is an exciting opportunity for potential residents and businesses. I am hopeful that the city of Stonecrest, DeKalb County and Rockdale County will champion this project and get it done," Battle told On Common Ground News. "It's going to take everybody coming together to make it happen. There are many parts to this plan. It won't all happen in a year or two. It could take 10 to 15 years to build out."
Landscape architect Thomas Walsh, founding principal of TSW, said the site is ideal for an environmentally-focused mixed-use community.
"The comprehensive plan we've developed takes full advantage of the community that preserves as much greenspace as possible… Our team has envisioned a walkable town center, two smaller villages and a variety of housing options clustered in charming hamlets," said Walsh.  "The comprehensive plan we've developed takes full advantage of the site's location and natural amenities including its proximity to the Arabia Mountain National Heritage Area, South River, which runs by the tract, and nearby Panola Mountain State Park. We envision creating a comprehensive trail system, unique, natural gathering places, river access and recreational options throughout the property."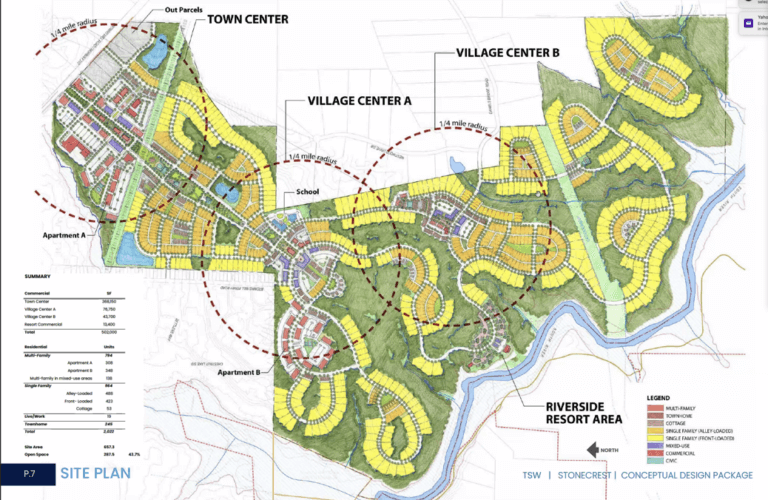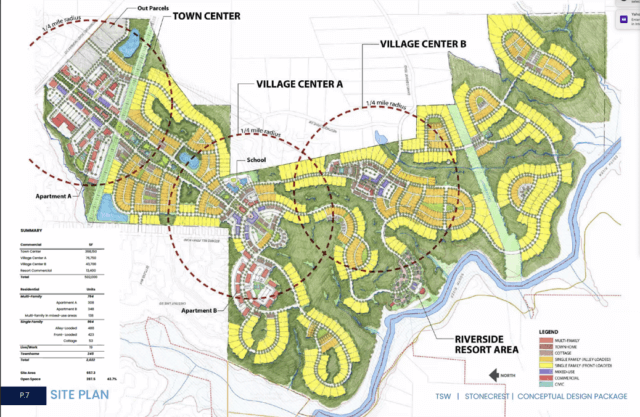 Battle told residents at the Zoom meeting that community input is a critical part of the planning process because there will be several hurdles to cross. Battle said she and the planning team, for example, must look at the portions of the property in the Arabia Mountain overlay district that would need to be rezoned and annexation also might be a factor. Battle said that 60 percent of the land is within the city of Stonecrest in DeKalb County, while 40 percent is in Rockdale County.
TSW projects 2,022 homes would be built in the new community including 964 single-family homes along with townhomes and apartment complexes connected to walking trails, parks and green space and an amphitheater. The project calls for 500,000 square feet of commercial space that would include a grocery store. A Montessori school and Fire Department also are possibilities, as well as a resort area with a hotel and amenities such as horseback riding.
Traffic was one of the main concerns that residents raised during Tuesday's meeting. Residents also were concerned about the height of apartments and whether there would be natural buffers to maintain privacy for existing communities.  A resident of the Chestnut Lakes subdivision near Setters Way said she was especially concerned about cut-through traffic from residents and others seeking to shop in the new community. A senior citizen expressed "fear" that the new community could change drastically change his way of life.
Battle said traffic studies would be part of the comprehensive plan and the project could not move forward without them. She said she and the planning team would do everything they could to make the proposed community one that would enhance the community at large. She said including apartments in the mix is intentional.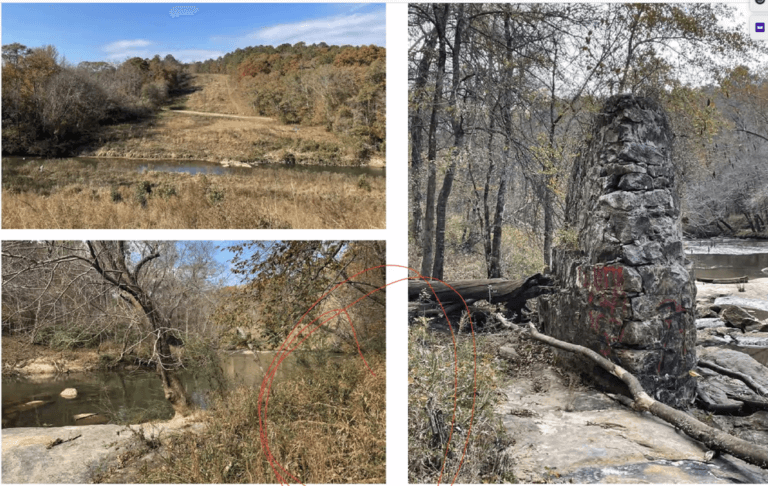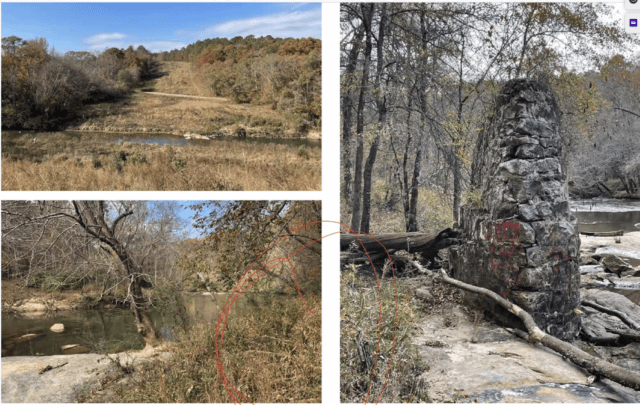 "We want to  make sure we have an integrated community that includes people from different economic situations or may be just their desires to lease rather than buy a home," Battle said.
About 60 people attended the Zoom meeting. At the conclusion of the meeting, Battle said of the 30 people who responded to a survey, 20 said they would be in favor if their concerns are addressed and 10 checked a box that they were against it, some citing traffic and density as their main reasons.
"I was pleased with the turnout and the participation and feedback. We know we have a lot of work to do. We want the input. We want this community to be one that they are proud of," Battle said.
Battle said the next community meeting will be held in a couple of weeks. The meeting date and time will be advertised in On Common Ground News, the city of Stonecrest's legal organ: www.ocgnews.com.
Battle encouraged residents to contact her for questions and concerns, as well as requests for team members to come out and speak to their communities: 404-601-7616, Ext. 1 or mb@battlelawpc.com.